Blog
Sustaining the Humanities in California's Imperial Valley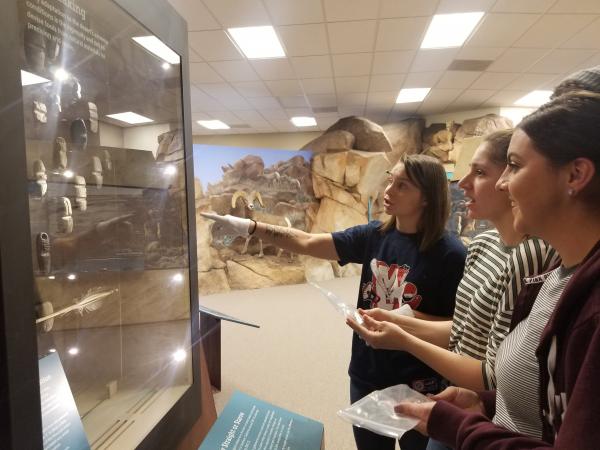 In the heart of the Yuha Desert, a border region just north of the Baja Peninsula in Southern California, a visitor might expect to find sweeping vistas filled with cacti. Perhaps, if standing in the right place at the right time, one might catch a glimpse of a golden eagle or a bighorn sheep. The land has been home to Indigenous peoples, including the Kumeyaay, Cahuilla, Quechan, Cocopah, and Pai Pai, for millennia; they were later joined by settlers to the Americas. Despite its rich natural and cultural heritage, the remote desert landscape is an unlikely place to find a museum.  
The Imperial Valley Desert Museum (IVDM) is an oasis for the community and its visitors seeking to engage in the region's past and present. With the oversight of IVDM's head curator and Indigenous Kumeyaay collections manager, the museum stewards a collection of more than 30,000 objects and an archive of photographs, slides, correspondence, papers, reports, and audio and video recordings. A highlight is its collection of more than 200 intact (or nearly intact) vessels that represent 1,000 years of Southern California ceramic tradition. 
Although it was first incorporated in 1974 as an organization dedicated to preserving the Imperial Valley's archaeological cultural assets, IVDM sought to connect diverse audiences with its collections when it built a new, permanent facility. Unfortunately, construction on the building finished during the Great Recession and the museum stayed closed to the public for a few years due to time and financial constraints. During this period of extended closure, IVDM gained a reputation as "the Museum that never opened." 
The museum defied its defeatist tagline when it opened its doors to the public in 2012. Key to this accomplishment was its forward-looking planning efforts, including an institutional strategic plan. According to the museum's Spirit of the Desert blog, the plan targeted four goals: to develop and pursue professional research, curation, and education programs; to create active, dynamic programs and exhibits; to emphasize the voice of Indigenous peoples past and present; and to develop sustainable funding.  
To achieve these objectives and establish that IVDM's mission, programs, and collections met national museum standards, the museum participated in the Collections Stewardship Museum Assessment Program (MAP), supported by the Institute of Museum and Library Services (IMLS) and the American Alliance of Museums, as well as the Conservation Assessment Program (CAP), administered by IMLS and Heritage Preservation. The museum sought and received funding from a National Endowment for the Humanities (NEH) Preservation Assistance Grant to implement MAP and CAP recommendations. During the same period, IVDM also applied for a NEH Challenge Grant to ensure the continued preservation, access, and use of its collections. 
NEH's Office of Challenge Programs fosters long-term support for organizations' humanities programs and resources. The office's mission is to strengthen institutional humanities infrastructure through a variety of funding opportunities, including a program that allowed organizations to establish or enhance endowments to support institutional activities. IVDM applied for and received the NEH Grant in 2015 to establish an endowment to sustain the salaries and operational expenses of its head curator and Indigenous Kumeyaay collections manager. 
Challenge Grants remain distinct from many other NEH programs because they do not include outright funds; instead, they require the recipient to match NEH support with third-party gift funds. To create the new endowment, IVDM raised three dollars in nonfederal funds for every one dollar it received from NEH. Between 2015 and 2020, the museum generated support from major corporations, local businesses, and private individuals.  
According to the U.S. Census Bureau's Small Area Income and Poverty Estimates program, Imperial County was California's most economically depressed county by percentage of the population in 2019. This reality challenged the museum's ability to generate revenue for the Grant's matching requirement. IVDM piloted innovative solutions to raise grassroots support, including new special events. The "Evening with an Expert" series, for example, proved so popular that it is now a museum staple and has continued beyond the Grant period. In its final report, IVDM wrote that its special events have allowed the museum "to successfully bring in new audiences and meaningfully engage them in an exploration and celebration of the history, heritage, and culture of Southern California and its First Peoples."    
Due to the COVID-19 pandemic, a challenging fundraising environment, and other factors, the museum did not meet the full extent of its matching goal. Despite this outcome, IVDM saw valuable results from its NEH Challenge Grant experience. The endowment has provided an annual average of $25,000 for the museum's curation activities. According to Executive Director Dr. David Breeckner, this funding has been indispensable in sustaining the museum's mission. It has supported the curatorial team, which has grown the museum's activities to include new research and learning opportunities, exhibits, events, content, and capacity to care for its collections. 
The museum has benefited from its increase in community engagement initiatives. Due, in part, to new exhibits, greater access to museum collections, and the promotion of curation activities, IVDM reported an 875% growth in its annual visitation rates during the Grant period. In Spring 2019, IVDM established a partnership with the Department of History at San Diego State University's Imperial Valley Campus, and it has engaged HIST-450 students in critical curatorial activities. The program has brought new visitors to the museum, as well as become a pipeline for new museum staff. After a period of closure due to the COVID-19 pandemic, the museum reported that visitor attendance had returned to expected rates.  
Despite the challenge of embarking on the museum's first capital campaign for an endowment, Dr. Breeckner shares that the NEH Grant has been instrumental to the institution's advancement. By converting NEH funding into successful outcomes, IVDM has made significant strides and quashed its former reputation as a perpetually unopened museum. It has endowed two key curatorial positions and increased attention around its humanities activities. The future is bright for this museum in the desert.