Blog
The Service Member's Experience: How Humanities Research Illuminates the Sacrifices of Those Who Defend Our Freedom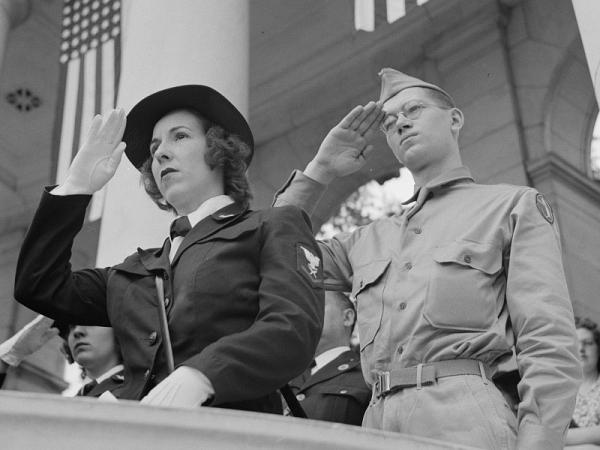 On the third Saturday of May, the nation pauses to honor its service members as a part of Armed Forces Day. 2023 marks the seventy-third year of this celebration of valor. As we seek to honor those who bravely serve our nation in the U.S. Army, Marines, Navy, Air Force, and Coast Guard, the NEH Division of Research Programs is highlighting recently published books, digital resources, and funded projects that reflect on or speak to the experiences of our service members. 
Books Funded by the Division of Research Programs 
Bailey, Beth. America's Army: Making the All-Volunteer Force (Belknap Press of Harvard University, 2009).  
The draft and the war in Vietnam are almost synonymous. The draft officially ended shortly after combat troops returned home from the war. Beth Bailey's book examines the Army's shift to an all-volunteer force. This post-Vietnam era transition forced the Army to grapple with the role the military should play during times of war and times of peace. Learn more about Bailey's work here. 
Delmont, Matthew F. Half American: The Epic Story of African Americans Fighting World War II at Home and Abroad (Viking Press, 2022).  
Matthew Delmont brings a new perspective to the seemingly well-known narrative of World War II, telling his readers about the heroism and lived reality of the African Americans who served in this era. Facing a segregated military, Black service members came home to continued racism and were denied the military benefits that their white counterparts enjoyed. Bringing to light the fight of these individuals abroad and at home, Delmont provides a rich account of an underappreciated aspect of World War II. Learn more about Delmont's work here. 
Hautzinger, Sarah J., and Jean Scandlyn. Beyond Post-Traumatic Stress: Homefront Struggles with the Wars on Terror (Left Coast Press, 2014).  
In a post 9-11 world, many soldiers have faced multiple deployments. Sarah Hautzinger and Jean Scandlyn look at the impact of multiple deployments on soldiers, their families, and the communities that support them as they adjust to civilian life. Hautzinger and Scandlyn offer a clear-eyed examination of this "new normal" for veterans and those around them. Learn more about the collaborative work of Hautzinger and Scandlyn here. 
Linn, Brian McAllister. Real Soldiering: The US Army in the Aftermath of War, 1815-1980 (University Press of Kansas, 2023). 
Military historian Brian Linn examines "what happens to America's armies after the war ends." Instead of focusing on the veteran returning to civilian life, or the stereotype of the general preparing for the next conflict, Linn describes what he terms the "military recovery cycle" from the end of the War of 1812 to the present. He shows how the Army completes institutional reforms, rebuilds and professionalizes the officer corps, stabilizes enlisted ranks, and assimilates the last war's veterans into the professional peacetime force. He also considers the pressure the Army faces to engage in social experimentation and to continually redefine its role for the public, politicians, and its own members. Learn more about Linn's work here. 
Sammons, Jeffrey and John H. Morrow, Jr. Harlem's Rattlers and the Great War: The Undaunted 369th Regiment and the African American Quest for Equality (University Press of Kansas, 2014).  
The notoriety of the 369th Regiment, known as the Harlem Rattlers, during the First World War is undeniable. Jeffrey Sammons and John Morrow Jr. examine this regiment and its history, penetrating beyond the mythology of popular culture. In doing so, they show how this unit, its heroes, and the African American search for equality are integrally connected to the American experience. Learn more about Sammons and Morrow's work here. 
Wagner, Sarah E. What Remains: Bringing America's Missing Home from the Vietnam War (Harvard University Press, 2019).  
The military's creed of 'no person left behind' is taken seriously by all who serve. Anthropologist Sarah Wagner examines this commitment in relation to the over 1,600 service members missing in action from the Vietnam War. By tracing the efforts to recover and remember them, from small everyday acts to larger memorials, Wagner provides insight into how and why the ideal of 'no person left behind' continues to be important for the nation. Learn more about Wagner's work here.
Williams, Chad L. Torchbearers of Democracy: African American Soldiers in the World War I Era (University of North Carolina Press, 2010).  
Decades before the military was desegrated, African American soldiers were crucial to the U.S. military's success. Historian Chad Williams explores the important role African American soldiers played during the First World War. Williams not only examines the combat service of these individuals, he also follows the story into the immediate postwar years. In doing so he reveals how the global conflict raised questions about service, democracy, and memory at home and abroad. See Williams talk about his book here. 
Websites and Digital Materials Funded by the Division of Research Programs 
Women in the U.S. Navy During World War II: An Online Archive of the WAVES ("Women Accepted for Volunteer Emergency Service") by Kathleen Ryan 
Over 100,000 women served in the U.S. military forces during World War II. Women who joined the Navy were called WAVES ("Women Accepted for Voluntary Emergency Service") and those who joined the Coast Guard were called SPARS (based on the Coast Guard motto "Semper Paratus, Always Ready"). This digital and interactive project makes available interviews with these women. As they realized, they were on the "hinges of history." This project explores their stories. 
Soldier Philosophers: The Ethics of War from Soldiers who Served by Barry Lam 
The ethics of war is not a new topic in philosophy. However, Barry Lam brings to it the experiences of the newest generation of service members. Interviewing veterans who have recently grappled with the ethical and philosophical questions of war on their own tours of duty, Lam has created a podcast combining their experiences with the insights of academic philosophy.  
Recently Funded Division of Research Projects to Watch for in the Future 
"'We Bring You Home': The American Forces Network and US Militarism Post-WWII" by Stacy Takacs 
The American Forces Network (AFN) has connected U.S. military members and their families to the home front since 1942. Looking at this radio and television network as a business and as a global enterprise, Stacy Takacs explores its connections to military personnel working abroad and its role in public diplomacy in the post WWII era. Her work innovatively combines the fields of media studies and military history. Learn more about Takacs's project here. 
"Race, Gender, and African American Pin-up Girls during World War II" by Charissa Joy Threat 
Photos that remind a soldier of home are to be found in every footlocker. During World War II, in answer to requests from African American soldiers, some Black newspapers appealed to their readers to help create pin-up photos featuring African American women. Charissa Threat explores this campaign and the response to it, examining questions about sexuality, respectability, race relations, military service, and patriotism. Learn more about Threat's project here. 
"Advertising for US Army Volunteers since 1914" by Jessica Ghilani 
Recruitment is integral both to the military's mission and to public perception of it. Jessica Ghilani's project examines the history of the military's advertising campaigns from the First World War through the end of the twentieth century. Drawing on archival material including documents from ad agencies such as N. W. Ayer and Son, Ghilani traces cultural influences in military advertising, the expectations of those recruited, and the experience of those who enlisted and served. Along the way, she gives special attention to the military's strategies for reaching a group she identifies as an important harbinger of the U.S.'s current volunteer force--women who joined the army as nurses during the Vietnam War. Learn more about Ghilani's project here. 
"Drafting Women" by Kara Dixon Vuic 
The draft is not usually thought of in connection with women serving in the military. Kara Vuic changes this with her project on possible revision of the law requiring registration for the draft. Women have voluntarily served in the U.S. military in almost every conflict but debate about requiring women to register for the Selective Service is ongoing. Vuic's work provides historical background for this debate and how it touches on what it means to be an American. Learn more about Vuic's project here. 
"To Be An American: The Ballad of Master Sergeant Roy P. Benavidez (1935-1998)" by William Sturkey 
William Sturkey's work is a biography of the Medal of Honor recipient Master Sergeant Roy P. Benavidez. In telling the story of this Mexican American veteran and hero, Sturkey examines broader questions of citizenship, race, military service, politics, and public policy during the Cold War. He also looks at the issues faced by veterans after their service. Learn more about Sturkey's project here. 
"Military Mujeres: Mexican American and Puerto Rican Women in the World War II U.S. Armed Forces" by Elizabeth Escobedo 
It is well known that women served in the U.S. military in important ways during World War II, from the WAC units to the WAVES, among others. Historian Elizabeth Escobedo examines the lesser-known role that Latina women, specifically Mexican American and Puerto Rican women, played within these units. By focusing on women of color, Escobedo provides a deeper understanding of how gender and race impacted military service members and their communities during WWII and afterwards. Learn more about Escobedo's project here.