Blog
Resources for Applicants: Sustaining Cultural Heritage Collections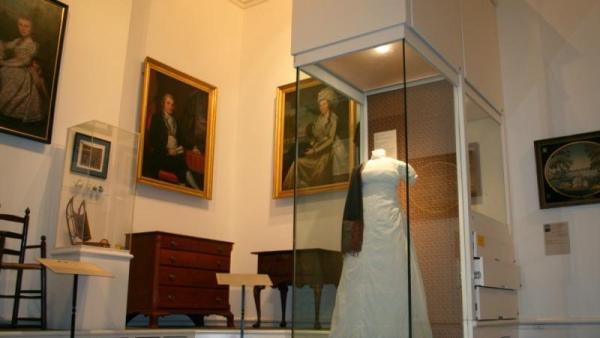 Did you know that at the end of every Notice of Funding Opportunity, we provide a list of additional resources for applicants in Section H? By featuring these in a series of blog posts, we hope that they may help you jump start and refine project ideas. And remember, NEH staff are always available to consult with applicants, too.
Sustainable Preventive Care Practices – Online Resources
Climate and Sustainability (American Institute for Conservation)
The American Institute for Conservation and the Foundation for Advancement in Conservation provide resources that promote sustainable practices in cultural heritage organizations. Projects include Held in Trust: Transforming Cultural Heritage Conservation for a More Resilient Future, a report that relates a vision of a vibrant and resilient future for conservation grounded in social justice, equity, and environmental action, in which communities, conservators, and diverse audiences work together to preserve the rich cultural heritage of the United States. Also available is a Wiki page on energy use, waste management, and other subjects related to sustainability in conservation and preservation.
Climate Crisis and Environmental Impact (Sarah Sutton and Héctor J. Berdecía-Hernández, Held in Trust, American Institute for Conservation, 2023)
This section of Held in Trust recommends tools for leadership and positive examples of responsible action for institutions at the local, state, and federal level, while providing frameworks for individuals and groups to take needed climate action.
Implementing Sustainable Energy-Saving Strategies in Collections Environments (Image Permanence Institute, 2017)
This guidebook provides methodologies for achieving sustainable mechanical system operation without sacrificing preservation quality. The guidebook is intended for use by individual libraries, archives, museums, and other cultural institutions, and addresses topics such as HVAC basics, gathering environmental data, and light reduction.
Preventive Conservation and the Role of Environment (Image Permanence Institute, 2019)
This webinar covers how the environment fits into the larger frameworks of preventive conservation and risk analysis and focuses on the environment's impact on preservation, including how to identify what materials within a collection are most vulnerable to these factors.
Reducing Environmental Impacts of Collections Care and Management (Foundation for Advancement in Conservation, 2021)
This webinar explores a variety of approaches that participants can use to make individuals' and institutions' work more environmentally sustainable. The webinar encourages participants to create a personalized list of options, tools, and tricks to start implementing these approaches.
STiCH: Tools for Informed Sustainable Choices (Foundation for Advancement in Conservation)
STiCH is a lifecycle assessment (LCA) carbon calculator and library of case studies and information sheets developed to help cultural heritage professionals make educated, sustainable choices to lower the environmental impact of their work. The carbon calculator compares the carbon footprint between items or a group of items, encouraging users to make educated choices. The case studies address issues too complex for the calculator, and the information sheets address overarching issues relevant to preservation and the creation of cultural heritage.
Sustainable Collections Environments (Thickett, David, Estudos De Conservação E Restauro, 11, 93-103)
This article addresses the development and validation of a series of tools to predict showcase carbon usage.
Sustainable Conservation of Collections: The Push for Passive (Koordinierungsstelle für die Erhaltung des schriftlichen Kulturguts International Conference, 2021)
This recorded conference presentation promotes passive storage and display strategies. Such passive principles include maintaining thermal stability, air tightness, water tightness, and monitoring the moisture potential of the collections.
Sustainable and Passive Ways to Improve your Collection Environment (Foundation for Advancement in Conservation, 2023)
This webinar describes some of the energy saving strategies that cultural heritage organizations currently implement to help reduce energy use. The webinar also discusses strategies that institutions can implement to improve collections environments without significant cost or impact on the space.
Sustainable Preservation: Quick Tips and Approaches for Museums, Libraries, and Archives (Image Permanence Institute, 2021)
This webinar presents quick tips and actionable approaches to environmentally sustainable preservation practices.
Sustainable Preservation Practices for Managing Storage Environments (Image Permanence Institute, 2012)
This guidebook is intended to enable collections care staff in cultural institutions to avoid risks to collections while pursuing sustainability efforts. The guidebook is organized as four sections, the first of which offers an introduction to sustainability terms and factors. The second and third section offer steps for developing and implementing a sustainable preservation environment. The final section lists additional resources, including worksheets and material for further reading.
Sustainable Preventive Care Practices – Print Resources
Brophy, Sarah and Elizabeth Wylie. The Green Museum: A Primer on Environmental Practice. Second edition. New York: AltaMira Press, 2013.
Finch, Lorraine. Low Cost/No Cost Tips for Sustainability in Cultural Heritage. 2022.
Energy: A Step-By-Step Guide to Sustainable Action. Volume 1. Ki Culture, 2021
Lankester, Paul, Amber Xavier-Rowe, and David Thickett "Principles for developing low-cost, sustainable stores" Transcending Boundaries: Integrated Approaches to Conservation. ICOM-CC 19th Triennial Conference Preprints, Beijing, 17–21 May 2021.
Maekawa, Shin, Vincent L. Beltran, Michael C. Henry. Environmental Management for Collections: Alternative Conservation Strategies for Hot and Humid Climates. Los Angeles: The Getty Conservation Institute, 2015.
Madan, Rachel. Sustainable Museums: Strategies for the 21st Century. Edinburgh: MuseumsEtc Ltd, 2011.
General Collections Care – Webinars
Introduction to HVAC Systems (Image Permanence Institute, 2021)
This webinar address topics that include an introduction to the components of an HVAC system, the job of each component, and how these components work together to achieve desired environmental conditions.
Storage Environments: The Big Picture (Foundation for Advancement in Conservation, 2017)
This webinar discusses research from the Image Permanence Institute exploring how collections respond to changes in temperature and relative humidity and strategies for a dynamic approach to preservation.
Storage Solutions (Foundation for Advancement in Conservation, 2014)
This webinar focuses on storeroom and storage mount solutions that can be reasonably constructed by museum personnel.
General Collections Care – Print Resources
Saunders, David. Museum Lighting: A guide for Conservators and Curators. Los Angeles: Getty Conservation Institute, 2020.
Taylor, Joel, and Vincent Laudato Beltran, ed. Managing Collection Environments: Technical Notes and Guidelines. Los Angeles: Getty Conservation Institute, 2023.
Evaluation, Monitoring, and Response – Online Resources
Energy Monitoring for Cultural Heritage Institutions (Image Permanence Institute, 2021)
This webinar explains why institutions should consider energy monitoring, different strategies for doing so, and how the data collected can inform decision-making.
Evaluating Collection Spaces (Image Permanence Institute, 2019)
This webinar addresses how to implement an environmental management program, from identifying the key features of a mechanical system that create indoor environmental conditions, to where problematic microclimates may exist in a collection space, to how to begin an environmental monitoring program.
Preservation Assessment (Northeast Document Conservation Center)
This survey, which is a part of the Northeast Document Conservation Center's online textbook, Preservation 101, provides step-by-step worksheets for assessing an institution's preservation activities. Section topics include fire protection, oversize and framed materials, and emergency preparedness. A sample executive summary report is also included as a reference.
Responding to Issues (Image Permanence Institute, 2020)
This webinar discusses how to make basic environmental changes or adjustments to improve preservation environments and provides guidelines for avoiding responses that may have negative consequences.
Setting Appropriate Parameters (Image Permanence Institute, 2020)
The webinar summarizes the broader field of research and standards and discusses factors to consider when setting environmental parameters.
Understanding Fluctuations and Equilibrations (Image Permanence Institute, 2020)
The webinar expands upon foundational research and theory by reviewing objects' responses to environmental fluctuations and factors affecting the rate of object equilibration.
Climate Resiliency – Print Resources
McGhie, Henry. Museums and Disaster Risk Reduction: Building Resilience in Museums, Society, and Nature. Curating Tomorrow. UK, 2020.