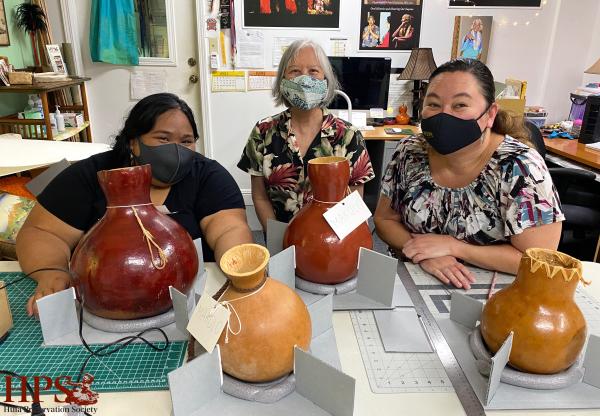 The Hula Preservation Society (HPS) began in 2000 as an oral history initiative that sought to record the life stories of Native Hawaiian elders and hula masters. Many of these elders were born before 1930, and over the last twenty years, HPS has been in a race against time to record and preserve as many of their stories as possible. In 2013, HPS expanded its focus, taking steps to not only accumulate elders' histories but to establish an organized archive to keep these stories and the physical collections they had gradually received both safe and accessible. Now, HPS is a well-established historical organization and archive containing oral histories from more than 100 elders and thousands of letters, photographs, manuscripts, videos, instruments, and textiles, including traditional hula attire. HPS has received two Preservation Assistance Grants and an American Rescue Plan grant to support its efforts to organize and store its collections sustainably as it provides in-person and digital access to community members as well as researchers from around the world.
HPS was founded by Winona "Nona" Beamer (1923-2008) and her hanai (adopted) daughter, Maile Loo-Ching. Beamer's own recorded stories, photographs, films, and writings reside at HPS. They document how hula helped her understand and claim her own identity as someone with both Hawaiian and white ancestry, her childhood insistence on performing a standing hula at school, where it was banned for its alleged suggestiveness, and her work preserving and promoting authentic hula against commercialization.
As the Nona Beamer collection helps demonstrate, hula is more than simply a form of dance. Hula records, preserves, and reenacts Indigenous knowledge, lifeways, language, values, and experiences across generations. HPS's oral histories with elder hula masters highlight the power of the performing arts, and hula in particular, to sustain communities through seismic shifts: the United States' annexation of Hawaii, the bombing of Pearl Harbor and World War II, and the rise of the tourism industry. Hula and the stories it tells functioned—and continue to function—as tools of resistance and resilience through political, economic, and cultural hardships.
NEH grants have helped HPS professionalize, streamline, and expand its collection procedures and archival operations. Its first Preservation Assistance Grant (PAG), in 2019, supported several crucial activities: a preservation assessment conducted by independent consultant Jeanne Drewes, online training courses on preservation and collections management for staff, and the purchase of environmental monitoring equipment to gain further information about the climate of the archival storage rooms.
The second PAG, undertaken this year, will pursue the most important priorities established by this initial preservation assessment. First, HPS will work withDrewes to carry out her most pressing recommendations by maximizing storage space, installing shelving, and creating appropriate housing for cultural heritage objects. Conservator Linda Hee will provide staff with hands-on training in constructing this housing for the archive's fragile hula implements. Hee will also create an ongoing reference to guide staff and volunteers on best practices for constructing this housing in the future. Finally, HPS also plans to host a conservation workshop for members of the community, empowering them to apply these conservation measures to their own precious family collections.
As this public conservation workshop demonstrates, HPS is a community-oriented institution. Before COVID-19, its dance studio was frequently rented out; the archive regularly welcomed visitors, and many elders from the nearby community worked there as volunteers. Sadly, the pandemic disrupted these modes of community building, learning, and archiving. In its application for an American Rescue Plan grant, HPS explained that Drewes had stayed in touch with staff as "an incredible advisor and mentor" since her initial work in 2019. She encouraged HPS to turn these challenges into an opportunity to professionalize its operations and offered her guidance, labor, and expertise toward the project. Through this award, HPS will expand its ability to work with researchers remotely, move from paper to digital record-keeping, and make more of its resources available online through its new virtual collections site, Digital 'Umeke. In this way, HPS will pay homage to the resilience of hula by being resilient itself, establishing a new normal that relies less on volunteers while staff eagerly anticipate welcoming elders and other community members through its doors again.
Chelsea D. Chamberlain was an intern in the NEH Division of Preservation and Access and a PhD candidate in History at the University of Pennsylvania during the summer of 2021. She has since received her PhD and accepted a position as an Assistant Professor of History at Wilkes University. Her research interests include the history of disability, childhood, and citizenship in the nineteenth- and twentieth-century United States.
The Hula Preservation Society received NEH support through Preservation Assistance Grants for Smaller Institutions PG-266660-19, PG-280757-21, and through the American Rescue Plan ZPA-283710-22.