Blog
Hispanic Heritage in the Humanities: Recent Projects Funded by the Division of Research Programs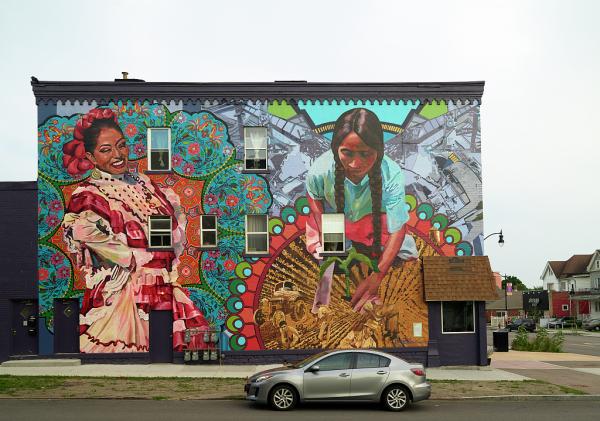 From September 15 to October 15, the United States marks National Hispanic Heritage Month. First established in law as "Hispanic Week" by President Lyndon Johnson in 1968, it was expanded to a month in legislation signed by President Ronald Reagan in 1988. The thirty-day period encompasses many important dates in Hispanic history, including the start of the Mexican War of Independence, several Latin American nations' independence days, and Columbus Day (also commemorated as "Día de la Raza," "Day of the Pluricultural Nation," and "Indigenous Peoples' Day").
In honor of Hispanic Heritage Month, the Division of Research Programs is highlighting some of the many books and digital projects it has funded that center Hispanic history and culture.
Books Funded by the Division of Research Programs
Molina, Natalia. A Place at the Nayarit: How a Mexican Restaurant Nourished a Community (University of California Press, 2022).
Through researching the history of her grandmother's Mexican restaurant in the Echo Park neighborhood of Los Angeles, Natalia Molina explored the immigrant experience and the power of restaurants as spaces of community belonging. Molina received a Public Scholar award from NEH to complete the manuscript of her book. Learn more about Molina's work here.
Olden, Danielle R. Racial Uncertainties: Mexican Americans, School Desegregation, and the Making of Race in Post–Civil Rights America (University of California Press, 2022).
In a groundbreaking 1973 case brought by a group of local parents, the U.S. Supreme Court ruled that the Denver public school district must immediately desegregate. In light of the ruling, all sides struggled to categorize the racial identity of Mexican American students, who did not fit neatly into established Black or white categories, and whose visions of "equal" schooling often contradicted those of other minority students. Supported by a Research Division fellowship, Danielle R. Olden produced the first scholarly work on Mexican American civil rights activism and racial identity in Denver. Learn more about Olden's work here.
Loza, Mireya. Defiant Braceros: How Migrant Workers Fought for Racial, Sexual, and Political Freedom (University of North Carolina Press, 2016).
From 1942 to 1964, an agreement between the United States and Mexico allowed millions of migrant workers to enter the American South. Mireya Loza explored the diverse identities and experiences of these braceros through archival research and oral histories. Through a Summer Stipend award, Loza was able to revise her manuscript for publication. Defiant Braceros received the Theodore Saloutos Book Award for best book on immigration history and the Smithsonian Secretary's Research Prize for excellence in scholarly research. Learn more about Loza's work here.
Lapidus, Benjamin. New York and the International Sound of Latin Music, 1940-1990 (University Press of Mississippi, 2020).
Innovation in Latin music in New York City in the mid-twentieth century was made possible by interethnic and cross-disciplinary collaboration, making it the capital of a transnational Spanish Caribbean music scene. Scholar of music Benjamin Lapidus received a yearlong fellowship to complete the book manuscript on the Latin sound of the Big Apple. Learn more about Lapidus's work here.
Pawel, Miriam. The Crusades of Cesar Chavez: A Biography (Bloomsbury Press, 2014).
In the first major scholarly biography of Cesar Chavez, Miriam Pawel studied the legacy of the Mexican American labor activist. Chavez, who cofounded the group which would later become the United Farm Workers labor union, became controversial in his later years but remains an icon of the American labor movement. Pawel, a Pulitzer Prize-winning journalist, received a fellowship from the Research Division to complete her archival research for the book, which included the transcription of previously unheard tapes by Chavez. Learn more about Pawel's work here.
Weise, Julie M. Corazón de Dixie: Mexicanos in the U.S. South Since 1910 (University of North Carolina Press, 2015).
In the first comprehensive study of Mexican and Mexican American life in the U.S. South, historian Julie Weise drew on archival records and oral histories to present case studies of distinct Hispanic experiences. Corazón de Dixie received the Merle Curti Award for best social history from the Organization of American Historians and the C.L.R. James Award from the Working-Class Studies Association. Learn more about Weise's work here.
Zeltsman, Corrina. Ink Under the Fingernails: Printing Politics in Nineteenth-Century Mexico (University of California Press, 2021).
In the century leading up to the Mexican Revolution, the printing press occupied a central role in the struggle for political power. Historian Corrina Zeltsman focused on the behind-the-scenes labor of workers in urban presses to explore the broader implications of state and religious authority in Mexico. Ink Under the Fingernails won the Howard F. Cline Prize in Mexican History from the Latin American Studies Association and the Best Book in the Social Sciences Award from the LASA Mexico Section. Learn more about Zeltsman's work here.
Digital Projects Funded by the Division of Research Programs
"Civil Rights in Black and Brown"
Through a three-year NEH Collaborative Research grant, researchers at Texas Christian University led by Max Krochmal collected hundreds of oral histories from participants in the fight for African American and Hispanic civil rights in Texas. The interviews are compiled in a searchable online database and have been widely cited in scholarship on modern American civil rights. Learn more about the project here.
"University of Arizona E-Books in Indigenous and Latinx Studies"
With the support of an NEH grant, the University of Arizona Press was able to retain staff during the COVID-19 pandemic to digitize books in Indigenous and Latinx Studies, and to expand "Open Arizona," its collection of free, open-access online scholarly works. Learn more about the project here.
"Memoria Presente: The Common Spanish Legacy in Italian and Latin American Cultures"
Led by Teresa Fiore and supported by an Awards for Faculty grant from NEH, the Italian Studies department of Montclair State University launched a wide-ranging research and curriculum program studying the cultural commonalities between Italy and Latin America stemming from a shared history of Spanish colonialism. "Memoria Presente" created an interdisciplinary online archive, compiled oral histories from students of Hispanic-Italian backgrounds, and developed an "Italian for Spanish Speakers" curriculum. Learn more about the project here.
Recently Funded by the Division of Research Programs
"Good Neighbor at Home: Mexican Americans' Bid for Political Empowerment in the World War II Era, 1930s-1940s" by Natalie Mendoza
Historian Natalie Mendoza received a Summer Stipend award to complete writing on her forthcoming book Good Neighbor at Home: Mexican American Identity and Civil Rights during World War II. The "Good Neighbor" policy, which called to improve U.S. relations with Latin American countries on the grounds of a shared democratic heritage, gave Mexican Americans the unprecedented opportunity to call for federal officials to address domestic racial issues. Learn more about Mendoza's work here.
"Social and Civic Transformation in Suburban Los Angeles Since 1945" by Becky Nicolaides
Through a Research Division fellowship, Becky Nicolaides studied social and civic life in the postwar suburbs of Los Angeles. Nicolaides contextualized the emerging diversity of the suburbs in broader patterns of settlement by diverse ethnic groups, especially Hispanic populations, in the postwar period. Her book, tentatively titled The New Suburbia: How Diversity Remade Suburban Life in Los Angeles After 1945, will be published in January of 2024 by the Oxford University Press. Learn more about Nicolaides's work here.
Challenging Exclusion: Mexican Americans, Textbook Reforms, and Archive Preservation by Omar Valerio-Jiménez  
In the late nineteenth and early twentieth century, Mexican Americans in New Mexico and Texas challenged negative characterizations and omissions in public school textbooks to assert their right to citizenship. Historian Omar Valerio-Jiménez received an Awards for Faculty grant from the Research Division to complete research and draft his forthcoming book, Challenging Exclusion in Education: Mexican Americans and School Reform. Learn more about Valerio-Jiménez's work here.