Blog
Experience the Humanities at America's Museums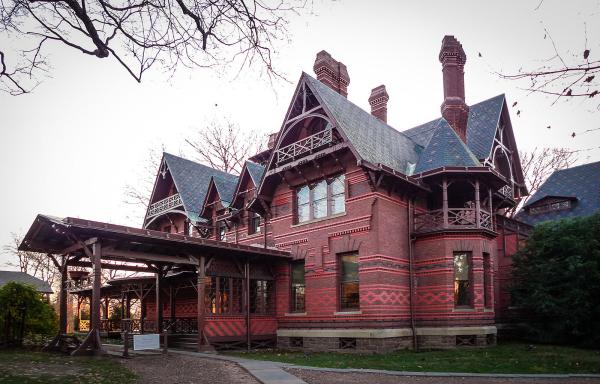 School is out for the summer, but the opportunities to learn are endless at museums and historic sites across the United States. In the fall of 2021, the National Endowment for the Humanities (NEH) awarded $87.8 million in American Rescue Plan funding to nearly 300 cultural institutions, including museums and historic sites working to revitalize their programming, retain or hire staff, and improve infrastructure as tourism grows across the country during pandemic recovery.
From the banks of the Kennebec River in Maine to the bright desert lights of Las Vegas, Nevada, NEH has supported institutions as they welcome back guests, and this summer is the perfect time to explore new museums on your travels or experience the rich culture of your community. Plan your next visit with these museum suggestions, and check out Humanities magazine's "How to Visit a Museum" guide for tour pro-tips.
The Mark Twain House & Museum | Hartford, Connecticut
More than ninety years ago, the Mark Twain Memorial & Library Commission was formed in Hartford, Connecticut, with the goal of restoring and preserving Mark Twain's home, now a National Historic Landmark. In the decades since, the home has been authentically restored and expanded to include the first LEED-certified "green" museum in the nation, collectively housing more than 20,000 historical artifacts, illuminating the life and times of one of America's greatest writers. Through the NEH SHARP grant program, the Mark Twain House & Museum retained its coordinator of education and assistant curator, two key positions for the development and implementation of public programming.
The historic home and museum houses collections of Clemens family heirlooms and architectural pieces, letters and photographs belonging to Mark Twain, and a number of rare manuscripts and first editions, many of which have been conserved with grants from NEH's Division of Preservation & Access. While there, be sure to check out the numerous books from Twain's library that bear his wry commentary in the margins. Plan a tour of the Mark Twain Home & Museum this summer, attend in-person and virtual events, or register for an upcoming summer writing workshop. Open daily from 10:00 AM to 4:30 PM.

The Neon Museum | Las Vegas, Nevada
Founded in 1996, the Neon Museum preserves and showcases iconic neon signs of Las Vegas's famed strip, chronicling their evolution from the 1930s to today. An outdoor exhibition space, the Neon Boneyard, features more than 200 unrestored and restored signs.  NEH SHARP funding allowed the Neon Museum to produce new 45-minute tours of the Neon Boneyard, 15-minute "gallery talks," and virtual content to reach new audiences as the museum continues to recover from the COVID-19 pandemic. 
In addition to touring the museum's exhibitions, the museum offers educational opportunities, including creative workshops and resources for teachers. This summer, families can participate in hands-on activities as part of STEAM Saturdays, while global audiences can tune in for "Beyond the Neon Boneyard," a new virtual presentation series chronicling Las Vegas history through the city's signs. The Neon Museum is open daily from 4:00 PM to 12:00 AM during the summer season, now through August 31, 2022, for general admission, as well as guided tours and immersive experiences.

Living History Farms | Urbandale, Iowa
Just outside Iowa's capital city Des Moines, long-time NEH partner Living History Farms invites guests to explore more than 300 years of history and culture on the prairies of the American Midwest and Iowa's contributions to the nation's agricultural development. On its 500 acres in Urbandale, the outdoor museum has recreated three farms and a frontier community, taking guests on a journey from the early 1700s to the 1900s in Iowa. With an NEH SHARP grant, Living History Farms began improvements to the 1700 Ioway Indian Farm site and development of programs on Ioway culture and immigrant experiences on the plains, in addition to hiring key historical staff. 
Visitors can journey through three distinct eras of Iowan agricultural history at the 1700s Ioway Indian Farm, 1850 Pioneer Farm, and 1900 Horse-Plow Farm—each farmed and maintained in keeping with their historic period—before visiting the bustling frontier community, the 1876 town of Walnut Hill. In addition to daily tours, the Farms host special events onsite, including guest exhibitions from other museums, historical baseball games, and historical skills classes. The farm is open to visitors in 2022 from May 3 to October 29, Tuesday through Saturday, from 9:00 AM to 4:00 PM

Maine Maritime Museum | Bath, Maine
Maine, like its sister states in New England, has a rich maritime history along its Atlantic coast and winding rivers. On the banks of the Kennebec River lies Bath, known as Maine's "City of Ships", and the Maine Maritime Museum, which celebrates and preserves the state's maritime culture and history. The riverside museum is home to the only wooden sailing vessel shipyard in the country, as well as exhibition galleries on shipbuilding and life on the water. In 2021, the indoor-outdoor museum received an NEH SHARP grant to reimagine its education programming and create new offerings, as well as expand online content and invest in technology for hands-on learning.
The museum campus features fifteen structures housing a variety of artifacts and exhibitions, carefully preserved in part by grants from NEH's Division of Preservation & Access. Tour galleries featuring original work from Maine artists exploring the human relationship with the sea, visit an immersive lighthouse exhibit, and learn about the Bath Iron Works' key role in building ships for the modern U.S. Navy. Check out the museum calendar for upcoming events, including lectures, painting workshops, and more! Open daily from 9:30 AM to 5:00 PM.

The Strong National Museum of Play | Rochester, New York
With one of the world's largest collection on the history of toys and games, the Strong National Museum of Play is a must-visit in Rochester, New York. Founded in 1968 by Margaret Woodbury Strong, the museum is designed to be highly interactive, exploring how play encourages learning and creativity, while illuminating how play reflects our cultural and human history. In 2021, the Strong Museum received an NEH SHARP grant to reinstate two positions lost during the pandemic and add two new positions—an artifact photographer and a research specialist in Black play and culture.  
A visit to the Strong is perfect for kids, families, and fans of play of all ages. In addition to temporary shows, the museum features 26 permanent exhibitions, including "America at Play", examining more than 300 years of play and pastimes, and eGameRevolution, on the history of video games presented by the Strong's International Center for the History of Electronic Games (ICHEG). Grants from NEH's Division of Public Programs and Office of Challenge Programs have supported the renovation of the museum's central gallery space to house a new NEH-funded permanent exhibition, "Digital Worlds", exploring the history and cultural impact of video games. The new gallery space and exhibition are expected to open in 2023. Open 10:00 AM to 5:00 PM Saturday to Thursday and until 8:00 PM on Fridays.