Blog
The Division of Research Celebrates LGBTQIA+ History Month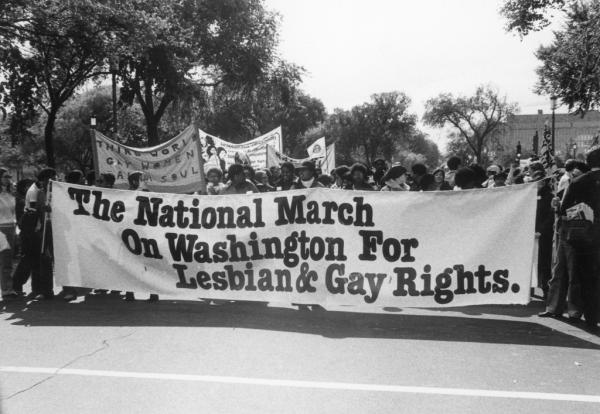 Since 1994, October has been LGBTQIA+ History Month in the United States. Founded by Rodney Wilson—Missouri's first openly gay public school teacher—and coinciding with the 1979 and 1987 marches on Washington for lesbian and gay rights, the month is meant to encourage celebration of the triumphs and achievements of queer people throughout history. As we reflect on generations of activism and progress, the Division of Research Programs highlights funded projects that speak to the experiences of members of the LGBTQIA+ community in the United States and across the globe.
Books Funded by the Division of Research Programs
Canaday, Margot. Queer Career: Sexuality and Work in Modern America (Princeton University Press, 2023).
In the late twentieth century, historian John D'Emilio wrote that industrialization and the rise of capitalism had a demonstrable impact on the articulation of gay identity. As the nexus of economic development shifted away from the household, queer men and women formed gay subcultures while participating in the burgeoning urban economy. While much has been done by scholars to better understand these working-class cultures, however, the potential contribution of the workplace itself to our understanding of these cultures has remained untapped. In Queer Career, Margot Canaday explores the ways in which LGBT employees navigated the labor market by selectively concealing and leveraging their sexual identities to their advantage. Learn more about Canaday's work here.
Caron, David. My Father and I: The Marais and the Queerness of Community (Cornell University Press, 2009).
Home to a vibrant tourist economy and residents from a variety of diverse backgrounds, the Marais is a historic district situated in the heart of Paris. The neighborhood's history has led it to become emblematic of France's national identity as an arbiter of egalitarianism and tolerance. My Father and I argues, however, that the Marais is far from a harmonious testament to the powers of social integration. David Caron draws upon the experiences of Jews, Arabs, and Chinese immigrants as well as his relationship as a gay man with his own father to tell the story of queer and otherwise marginalized peoples in a space that is both familiar and alienating. Learn more about Caron's work here.
Ellis, Richard J. Judging the Boy Scouts of America: Gay Rights, Freedom of Association, and the Dale Case (University Press of Kansas, 2014).
For many young men, participation in the Boy Scouts of America has been an integral part of their development. Judging the Boy Scouts of America tells the story of James Dale, a young Eagle Scout and scoutmaster who was expelled from the organization in which he had been a longtime member after it was discovered that he was gay. By delving deep into the circumstances surrounding the Supreme Court's ruling in Boy Scouts of America and Monmouth Council v. James Dale (2000), Richard Ellis illuminates the underlying tension between egalitarianism and the individual liberty to define and qualify group membership. Learn more about Ellis's work here.
Lewin, Ellen. Gay Fatherhood: Narratives of Family and Citizenship in America (University of Chicago Press, 2009).         
Due largely to the perception that gay men are sexually promiscuous and generally uninterested in starting or caring for families, it is commonly believed that they do not make good fathers. In Gay Fatherhood, NEH fellow Ellen Lewin chronicles the lives of gay fathers who are forced to grapple with the consequences of these harmful stereotypes as they raise their children. This book not only tells the stories of fathers who are subjected to ideological and political harassment but also brings into question the ever-changing definitions and notions of parenthood and the family unit. Learn more about Lewin's work here.
O'Dwyer, Conor. Coming Out of Communism: The Emergence of LGBT Activism in Eastern Europe (New York University Press, 2018).
Coming Out of Communism dives into the dynamics of LGBTQIA+ activism and resistance to it in five post-communist countries: Poland, the Czech Republic, Slovakia, Romania, and Hungary. The book explores a variety of mediums for gay rights activism (and antigay activism) including pride marches, museum exhibitions, film festivals, and political campaigns to paint a picture of the contemporary fight against institutionalized homophobia and discrimination in Eastern Europe. It argues that—defying conceptions of national identity that have been historically at odds with homosexuality and drawing strength from the sociopolitical effects of reintegration with the European Union (EU)—the region's gay rights movements have been largely well-organized and effective at fostering crucial discussions about the rights of sexual minorities. Learn more about O'Dwyer's work here.
Romm, James. The Sacred Band: Three Hundred Theban Lovers and the Last Days of Greek Freedom (Simon & Schuster, 2021).
The fall of Sparta and Thebes's subsequent hegemony over Greece in the fourth century BC has been well-documented as a significant turning point in Greek history. But hidden in plain sight is the captivating story of an elite militia comprised of 300 paired male lovers dubbed "The Sacred Band." Before meeting their untimely demise at the hands of Alexander the Great at the Battle of Chaeronea, these soldiers played a crucial role in not only the victory of Thebes over Sparta but also the emergence of the notion that lifelong same-sex couples were possible in discussions amongst the members of the Platonic Academy in Athens. Learn more about Romm's work here.
Forthcoming Projects Funded by the Division of Research Programs
"An Annotated Anthology of the Newspaper Columns of Politician and Activist Harvey Milk (1930-1978)" by Jason Edward Black.
Before he made history by becoming the first openly gay man to be elected to public office in California, Harvey Milk was the author of "The Milk Forum." This biweekly column discussed important topics pertaining to the gay liberation movement and was featured in the Bay Area Reporter, San Francisco's premier LGBT paper in the 1970s. Following Milk's assassination in 1978, many of these columns fell out of circulation and have not since been rereleased to the general public. Jason Edward Black received an NEH summer stipend to assist in the compilation and annotation of more than one hundred columns spanning four years of publication. Learn more about Black's work here.
"Sounding Bodies: How Musical Science Shaped Representations of Gender and Sexuality in British Literature, 1850-1914" by Shannon Burke Draucker.
Victorian literature is often perceived by scholars and laypeople alike as being mired in traditional or even "prudish" institutions. Centering on nineteenth-century writers and thinkers who interfaced with the field of musicology, this project complicates this monolithic conception of Victorian literature by arguing that the advent of music physiology—the association of music with intimate, embodied sensations—enabled the literary defense of subversive forms of pleasure and sexuality. Most importantly, Sounding Bodies provides a glimpse into these authors' uses of the intersection of music and the body, giving agency and representation to diverse sexualities and gender identities, often targets of marginalization and state-sponsored violence.  Learn more about Draucker's work here.
"A Social Biography of Same-Sex Desire in Postcolonial Ireland" by Averill Earls.
Up until decriminalization in 1993, same-sex relations were the subject of heavy policing in postcolonial Ireland. Averill Earls sifts through hundreds of court records detailing cases of "gross indecency" and sodomy to reveal a narrative of Ireland's national development in the twentieth century that is inextricably linked to the criminalization of homosexuality as well as the rent boy market that met the demands of gay men who sought pleasure in places hidden from the eyes of the state. Venturing beyond a conventional social history, this project weaves together the lived experiences of individual residents of Dublin on an intimate level. Learn more about Earls' work here.
"Enchanting Technology: Obfuscation, Play, and Other Queer Strategies for Countering Surveillance Capitalism" by Harris Kornstein.
Mass surveillance and the limits of privacy as an individual right continue to be hotly debated topics in the United States and the international community alike. Queer and trans people employ "digital enchantment," NEH fellow and renowned drag queen Harris Kornstein (Lil Miss Hot Mess) writes, to evade potential invasions of their privacy while "playfully [dazzling] both the human senses and computational sensors." In their upcoming monograph, Kornstein centers San Francisco's queer communities in a revolutionary counter-surveillance framework built around mysticism and artistry. In an age of dizzying technological innovation and multinational technology companies with the capacity for the unbridled collection of personal information, this project is certain to provide readers a unique glimpse into the intersections of artificial intelligence, queer performance, and privacy. Learn more about Kornstein's work here.
"Biology and the Construction of Identity: Science, Citizenship, and Inequality in the LGBTQ+ Movement" by Joanna Wuest.
There has long been heated discourse and debate regarding whether one's gender identity and sexual orientation can be predicted or explained from a biological standpoint. Joanna Wuest traces the origins of such discourse, arguing that one cannot fully understand America's LGBTQ+ movement and advocacy for equal treatment without considering the influence of scientific institutions on conceptions of self and group identity. The project pays particular attention to the efforts of scientists, legal professionals, and political activists in contributing to and framing such discussions. Learn more about Wuest's work here.