Blog
A Conversation with the Burke Museum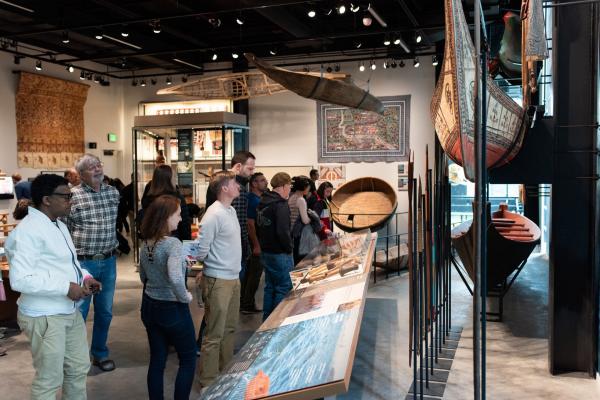 Have you ever wondered what goes on behind museum doors? When the Burke Museum of Natural History and Culture in Seattle opened its new space in 2019, the curators planned to demystify this aspect of the museum by allowing visitors to gain access to collections that would usually be hidden. This approach, which they call the "Inside-Out" model, was incorporated into three new exhibits funded by an NEH Infrastructure and Capacity Building Challenge Grant: The Northwest Native Art Gallery, Our Material World (Archaeology), and the Culture is Living (Contemporary Culture).
The Northwest Native Art Gallery was co-curated by six Pacific Northwest Native artists: Betty Pasco (Suquamish), Pat Courtney Gold (Wasco), Evelyn Vanderhoop (Haida), Lou-ann Neel (Kwakwaka'wakw), Alison Marks (Tlingit), and RYAN! Feddersen (Okanogan and Lakes). The exhibit features new and historic Native art pieces on rotation and permanent display such as a 35-foot canoe, welcome figure, totem poles, and house posts. Our Material World uses archaeological finds to display the material culture of Native people in Washington. Finally, Culture is Living prominently displays cultural objects and the expertise and knowledge of communities from across the Pacific Ocean. This exhibit also emphasizes the fact that these cultures are still alive and thriving.
The project represents the Burke's efforts to build a connection with and a valuable learning experience for its audience and to seek the expertise of Native communities. To learn more about the project following its conclusion, we asked Julie Stein, the Executive Director of the Burke Museum, to provide an update for us.
Since the pandemic began, many museums have had to alter their approaches to maintain visitation, whether it be virtually or through increased safety precautions. How has the Burke Museum operated during the COVID-19 pandemic?
When the Burke opened in its new home in October 2019, we received many positive community reviews and great public enthusiasm. We operated the new Burke for five months before closing due to the COVID-19 pandemic on March 12, 2020. By working with the University of Washington Environmental Health and Safety to establish safe reopening protocols that align with state and university guidelines—including reduced visitor capacity, prescribed pathways, continual cleaning, and mask requirements—we were able to reopen to members in September 2020. New guidance from the governor led us to close again in November 2020. Thankfully, As of February 2, 2021, the museum is again open, with additional safety protocols in place.
As limits to on-site access curtailed our ability to meet our educational and programmatic goals, teams from across the museum worked together to pivot to virtual offerings, including:
Burke from Home

, an online resource that features regularly updated, downloadable educational materials, activities for families and children, curator Q&As, collections-based content, and access to online events such as Burke trivia nights and a Mt. St. Helen's eruption anniversary program.

To meet the continued needs of teachers and students, we are offering

Virtual Field Trips (VFT)

and Burke LIVE

, programs that focus on Native American culture, paleontology, and the life sciences. Designed to support classroom curriculum, these interactive, self-paced experiences feature high-quality virtual tours of the relevant collections, work areas, and labs (including behind the scenes), led by Burke educators, as well as supplemental material that helps teachers prepare students for the live experience and extend their learning afterwards.

We also have Virtual Open-Door events that feature staff, students, and volunteers working hands-on in the collections—for example, cataloguing and rehousing archaeological fragments or preparing fossils or cleaning fragile baskets—as well as community members and artists who use our Culture workroom and new Artists Workshop as a backdrop for sharing stories, practices, and techniques, drawing on our Native American, Oceanic, and other cultural collections as inspiration and guidance.

The Burke's ongoing

Curated Conversations

series offers museum members special opportunities to engage online with the work of individual curators and departments. Each event features a 15- to 25-minute talk by a Burke curator or other staff members, followed by a moderated Q&A. While most Conversations have taken place at the presenters' homes, the Our Material World gallery—supported by the NEH Challenge grant—was the focus of and backdrop for a Curated Conversation presented live (with safety protocols!) from the Burke Museum.

Our curators are teaching their classes over Zoom and wanted to bring the collections to their students' learning, so they moved their laptops into the exhibits – on rolling carts – and engaged with their classes in the galleries. For example, as Pacific Islander navigation was being discussed as a sophisticated science, Holly Barker virtually brought her students into the Culture is Living gallery, to show them the sail woven by Yap communities as well as the maps of the Pacific Ocean currents and islands made from woven stick materials. Students appreciated the sophistication of the weavers and the marvel of traveling across the Pacific Ocean without GPS and in an open boat.

The new Burke's first special exhibit,

Cruisin' the Fossil Coastline

, opened while the museum was still closed. We were able to take the exhibit opening event online, creating a special evening with featured artist Ray Troll and the Smithsonian's National Museum of Natural History Director Kirk Johnson.
It's great that you were able to offer so many virtual options to visitors in addition to your new galleries within the Burke Museum. How have audiences responded to the Northwest Native Art Gallery, Our Material World, and Culture is Living exhibits?
Our audience has responded well with thoughtful and positive feedback regarding the new galleries. Here are some comments we have heard from the community online:
"It is a great example of looking at our culture as we are here! Not extinct or in the past. Huge difference. Great work."

"Here's an example of the interpretation signage [photo of theft and repatriation label about totem poles in the Northwest Native Art Gallery] at the Burke Museum. I can't remember ever having seen anything so frank in a UK museum, and it seems that this approach is linked to a wider strategy of co-curation, collaboration and repatriation. I'm pretty naive in this context but was impressed by the institutional commitment to acknowledging these issues and putting them at the heart of the museum.

"

"We recently visited the Burke Museum with its newly implemented COVID protocols. I loved checking out exhibits covering Indigenous peoples (including Pacific Islanders as well as nation from the Pacific Northwest) with #OwnVoices perspectives."

"Found some serious inspo at a local Seattle museum recently. Seeing weaving traditions and the time and love put into such beautiful tapestries gives me all the happy feels."  [visitor talking about Culture is Living gallery]
One aspect of your project that I found very interesting was the "Inside-Out" model of the Burke Museum, which was described as "a dramatic departure from the typical museum model," in that your collections, labs, and learning spaces are visible and interactive for visitors. Can you explain a bit more about "Inside-Out"? How did you integrate it into your NEH-funded exhibits? How has your audience responded to this model approach?
When planning began for the new museum, we repeatedly heard from stakeholders about how much they valued behind-the-scenes events at the old Burke, which revealed to the public the many facets of museum work usually hidden from view and made tangible the museum's essential purpose and value. Making this experience more accessible and available to all parts of our community became central to the vision of the new Burke, and the project team spent thousands of hours making the case to staff, board members, community members, the University of Washington, and funders for a new museum that would be at the forefront of change in how museums function and the way they are perceived by the public.
In the old Burke, only our curators, students, staff, and volunteers—and people who knew the director—were given a chance to see behind the walls to the collections, workrooms, and labs. Now everyone who visits the exhibits can see (through soaring windows) the people dissecting mammal skeletons in a lab, examining the intricacies of baskets or boats, preparing T. rex fossils or fossil leaves, or entering archaeological data into databases. White boards provided by the staff explain the work happening through the window in real time, and occasionally the windows slide open, or staff come out to talk to school groups or visitors.
The public's appreciation of this new approach was evident in the comments heard as visitors stood and watched collections manager and volunteers unwrap textiles from Central America. A small white board contained a handwritten message, perhaps crookedly, noting that the textiles were part of a recent donation from Honduras and had to be described, photographed, and wrapped around acid-free rolls to store them. A visitor was overheard to say, "Look how beautiful those are, and each one is different." A friend said, "Look at these Arctic art sculptures. Who knew that the Burke had objects from so many different cultures?" These comments are meaningful in that they represent the personal discoveries of individuals as they watch others work. People would stand there for a long time and just watch. One visitor was overheard to say, "I didn't realize there were so many jobs and people working in the museum."
One way we know that visitors enjoyed the experience of Inside-Out is in greatly increased attendance numbers, nearly double, during the five months that the new museum was open pre-COVID-19. We note that people stay approximately three hours longer and engage in much more detail with this new approach.
It is apparent that the "Inside-Out" model will impact the museum field. Can you discuss the continued impact that the new galleries have had on the humanities?
In our experience, and others in the field and museum goers may attest to this, many museums depict cultures as static moments in time, and usually in the past. With our new exhibits, we aimed to change that. Visitors will now see that the galleries at the Burke contain quotes from living people referring to their relatives who made this object and how it is used in ceremonies today. We also have pictures of modern people to impart the impression that these cultures are alive. The people who made these objects did so from traditions that are strong and are still practiced today. The descriptions suggest that these cultures are creative, sophisticated, and made by great artists. The assemblage of many boats and paddles together in the Culture is Living Gallery suggest diversity and scientific innovation. People leave the gallery not thinking that these objects represent a culture that is gone, but rather a culture that is alive, and people who are our neighbors. Such representations drive home the point that we must recognize the colonial practices of museums in the past. These exhibits help decolonize museums for the future.
The applications for the latest round of Infrastructure and Capacity Building Challenge grants just closed, but the next round's application deadline is coming in September. Considering the fact that the Burke Museum has gone through the process, what advice do you have for future applicants and/or awardees? What lessons have you learned from your experience working with NEH funded projects?
I would say to any applicants and awardees, but especially those involving tribal and indigenous collections, to incorporate consultation with source communities into your project work plan and budget. Consultation is an important part of exhibit and museum creation and is being recognized as a necessary step in all creative processes. It is important to note that consultation must happen early and requires resources to pay for the expertise. At the Burke, we pay for architects and engineers. We needed to acquire funds to pay for community experts as well. NEH allowed us to do that, and we encourage other museums to consider the power of consultation.
Thank you for this update! Please discuss any future events related to NEH project and how to visit the Burke Museum.
We have so many exciting plans for our exhibits, especially in the Northwest Native Art Gallery. The first installation there featured historic and contemporary art from the Burke collections and was co-­curated by six Indigenous women artists. Each of the artists was given their own section in which to answer the question: "What is your artistic heritage?" through their own work and in conversation with historical works of their choosing. As audiences return to the museum, we look forward to continuing to share this inaugural exhibition, and to honoring the next artistic treasures to be selected for the gallery.
We also look forward to opening our artists' studio after the pandemic as well as our other "open door" opportunities for our visitors after the pandemic is over. Visitors love to watch art being created, ask questions, and appreciate the difficulty of the process. We look forward to the day when we can again invite these living artists to work in front (rather than behind) the scenes.
To follow the Burke Museum and find out how to visit please visit this site: https://www.burkemuseum.org/visit
 
The Burke Museum Association was awarded an Infrastructure and Capacity Building Challenge grant (CHA-261891-19) in 2018.
For more information on the Infrastructure and Capacity Building Challenge grant, please visit our program page. Contact @email with questions.