Blog
2020 Awards For Humanities Collections & Reference Resources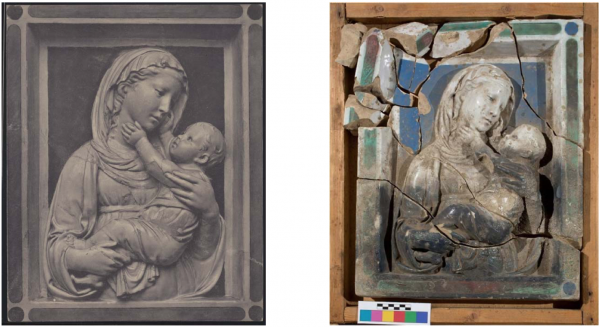 Congratulations to the following institutions, which have received awards for 32 projects to preserve and create access to humanities collections and produce reference materials:
Amistad Research Center, New Orleans, LA
Award: $302,217
The arrangement and description of 600 linear feet of archival materials from the Federation of Southern Cooperatives/Land Assistance Fund (1967-1990) and the Emergency Land Fund (1971-1986), which document African American land ownership and agricultural communities in the southern United States.
Florida Atlantic University, Boca Raton, FL
Award: $231,588
Cataloging and digitization of 25,000 slides taken by photographer Florence Arquin during the 1940s and 1950s that document Latin American and Caribbean heritage and culture, to be made available through a website at Florida Atlantic University.
Frick Collection, New York, NY
Award: $350,000
Digitization of 73,894 photographs of American and European sculpture and American gallery inventories from the twentieth century. The project would complete online access to the Frick's 1.2 million reference images.
George Mason University, Fairfax, VA
Award: $334,720
Arrangement and description of 282 linear feet of archival material, including correspondence, memos, photographs, audiovisual recordings, and ephemera related to the career of James M. Buchanan, who won the Nobel Prize in economics in 1986 for his development of Public Choice Theory.
Green-Wood Historic Fund, Brooklyn, NY
Award: $144,940
Transcription of the Green-Wood Cemetery's historical burial registry, which contains records from 1840 to 1937 of 438,180 citizens interred in the cemetery. The registry's contents would be
transformed into a database searchable through the cemetery's website and available for full download.
Harriet Beecher Stowe Center, Hartford, CT
Award: $50,000
A planning and pilot project to establish priorities for digitizing the Stowe Center's archival holdings and artifact collections related to Harriet Beecher Stowe, her family, and the Nook Farm neighborhood in Hartford, Connecticut. The project would seek advice from focus groups of scholars, teachers, and students; digitize and create metadata for 100 objects; develop and test workflows; and collaborate with state-wide digital platforms to ensure the collections reach a wide audience.
Historical Society of Pennsylvania, Philadelphia, PA
Award: $124,266
The arrangement and description of four manuscript collections, totaling 149 linear feet, that document women's history in the greater Philadelphia region from the 1860s to the present. Portions of each collection would also receive conservation treatment and be rehoused for long-term preservation.
Institute for Advanced Study, Princeton, NJ
Award: $350,000
The cataloging and digitization of 30,000 paper squeezes that preserve ancient Greek and Latin inscriptions, including treaties, laws, decrees, honorific inscriptions, accounts of building projects, dedications, and literary texts from Ancient Greece.
Maine Historical Society, Portland, ME
Award: $341,935
Providing access to three archival collections that document Maine's history from 1625 to 1893 through the Maine Memory Network website. The project would provide more than 21,000 images with metadata, as well as some transcriptions and contextual essays.
Museum of Flight Foundation, Seattle, WA
Award: $236,824
The arrangement, description, cataloging, and selected digitization of 170 cubic feet of archival materials and 260 objects from the William P. and Moya Olsen Lear Collection, including correspondence, photographs, model planes, invention prototypes, and 33 audio recordings and 18 films related to groundbreaking discoveries in aviation and radio that span the twentieth century.
National Geographic Society, Washington, DC
Award: $350,000
The cataloging and digitization of 15,030 early color glass slides created by explorers and researchers between 1914 and 1944, covering the Arctic regions, Greenland, and Alaska. An accompanying finding aid would include not only description of the photographs but also some 3,000 textual objects that document the content and the creation of the collection.
Nelson Gallery Foundation, Kansas City, MO
Award: $157,653
Development of an online dictionary of Missouri artists, profiling 500 artists who were active across the state between 1821 and 1951. The resource would be developed through a partnership among three leading archival repositories in Missouri and would debut in the state's bicentennial year.
New York State Archives Partnership Trust, Albany, NY
Award: $52,029
An online statewide inventory of municipal records documenting urban renewal in New York from 1949 to 1974, to facilitate planning for the digitization of the materials.
Northern Illinois University, DeKalb, IL
Award: $34,8630
Digitizing 4,409 volumes of dime novels and story papers published by Street & Smith, a New York City firm in operation from 1855 to 1959. A partnership among five academic libraries—Northern Illinois University, Villanova University, Stanford University, Bowling Green State University, and Oberlin College—the project would provide images and full texts of the works, catalog records for the volumes, and indexed entries for every story, series, and author, to augment an existing online bibliography of dime novels.
Sealaska Heritage Institute Inc., Juneau, AK
Award: $349,964
Preservation, digitization, cataloging, and creation of online access to 540 hours of the song, dance, and oratory of Sealaska Heritage Institute's biennial festivals, from their start in 1982 to the present.
Seattle Art Museum, Seattle, WA
Award: $350,000
The digitization of 3,000 audiovisual recordings that chronicle the Seattle Art Museum's institutional history from the 1930s to the 2010s.
Society of Architectural Historians (NFP), Chicago, IL
Award: $59,982
A survey of at-risk 35mm slide collections of the built environment in the United States from the 1960s to the mid-1990s held by members and partner institutions of the Society of Architectural Historians (SAH), along with a pilot project to create a consortium of institutions that would house the digitized and physical collections; develop guidelines for prioritizing digitization, long-term storage and disposal; and create a framework for using fellowships and internships to assist with digitizing the slides and creating finding aids.
Treasury of Lives, Inc., New York, NY
Award: $349,475
Expansion and development of an online resource that documents the history, people, and places of Tibet, Inner Asia, and the Himalayan region.  The project would expand the technical infrastructure of the current resource to include linked open data and would expand content by adding new biographies and geographic data.
University of California, Berkeley, Berkeley, CA
Award: $151,586
The arrangement and description of the archives of two California women architects/planners, Cathy Simon and Karen Alschuler, of the architectural firm SMWM (Simon Martin-Vegue Winkelstein Moris), whose work impacted California design in the late twentieth and early twenty-first centuries.
University of California, Los Angeles, Los Angeles, CA
Award: $349,289
The arrangement, description, and selected digitization of archival collections pertaining to the role of religion in Latino history. Included are nine collections totaling 237 linear feet, among which are 12,000 photographs that would be digitized.
University of California, Santa Barbara, Santa Barbara, CA
Award: $349,721
The expansion of the Discography of American Historical Recordings online database through the creation of 14,000 discographic records and the digitization of recordings on 8,500 disc sides produced by the Bluebird and Victor record labels, covering the period from the 1920s to 1948.
University of California, Santa Barbara, Santa Barbara, CA
Award: $350,000
The continued development of the English Broadside Ballad Archive (EBBA), with the addition of 1,178 pre-1701 printed ballad sheets from 101 institutions in the United States, Canada, the United Kingdom, and Australia. In addition, the applicant would catalog 923 tune titles and approximately 18,200 woodcut impressions and would enhance access to the entire ballad collection through the project's new website, EBBA 4.0.
University of Houston, Houston, TX
Award: $348,751
The digitization of nearly 6,000 hours of radio and television programs documenting the Lesbian, Gay, Bisexual, and Transgender (LGBT) community in Houston from the mid-1970s to the 2000s.
University of Houston, Houston, TX
Award: $50,000
The planning and development of an online directory of libraries, archives, and museums containing sources on Hispanic history and culture in the United States, from the colonial era through 1960, with a focus on small institutions in the South and Southeast.
University of Maine, Orono, Orono, ME
Award: $59,994
A multi-institutional planning project to develop an online portal for access to archival sources on Franco American history and culture. The project team would also plan for digitizing Franco American sources at partner institutions and would explore linking other library and archival collections to the portal.
University of Nebraska, Board of Regents, Lincoln, NE
Award: $349,856
Revitalizing the digital architecture of the Walt Whitman Archive to make it easier to search and use the materials on the website. Specific improvements would include changing the programming framework, creating a machine-readable interface for the website's code, images, and metadata, revising files to improve the metadata, and leveraging existing metadata through a new search engine.
University of Nevada, Las Vegas, Las Vegas, NV
Award: $271,580
The arrangement and description of nearly 400 linear feet documenting Howard Hughes' film career dating roughly from the 1920s to the 1970s.
University of Oklahoma, Norman, Norman, OK
Award: $49,495
Planning for the creation of online access to Native American language holdings at the Sam Noble Oklahoma Museum of Natural History, at the University of Oklahoma. Planning would entail a series of workshops for tribal community members, linguists, archivists, and technology developers in order to share user needs and best practices in the design of language repositories.
University of Southern Mississippi, Hattiesburg, MS
Award: $349,987
The digitization, transcription, and annotation of the papers of Mississippi state governors from 1859 to 1882 to include official correspondence, military telegrams, and letters and petitions from the public.
University of Texas Rio Grande Valley, Edinburg, TX
Award: $59,975
A project to evaluate transcription tools and methods and develop a preservation plan for two sociolinguistic corpora documenting contemporary language practices of Spanish/English bilingual speakers in South Texas and southern Arizona.
University of Virginia, Charlottesville, VA
Award: $126,527
The enhancement of a database that details the lives of 4,000 enslaved and formerly enslaved African Americans in Virginia who took part in the colonization and establishment of Liberia in the nineteenth century and provides data pertaining to 500 facilitators of their emigration. The database would include links to digitized correspondence and other contextual and bibliographic information.
Young Men and Young Women's Hebrew Association, New York, NY
Award: $350,000
Digitization and description of 854 original audio recordings of humanities and literary lectures given at the 92nd Street Y in New York City from 1950 to 2008.
The notice of funding opportunity for the next Humanities Collections and Reference Resources application deadline (July 15, 2020) has been posted. Please visit the program resource page for that and other helpful information.