Elton John
National Humanities Medal
2021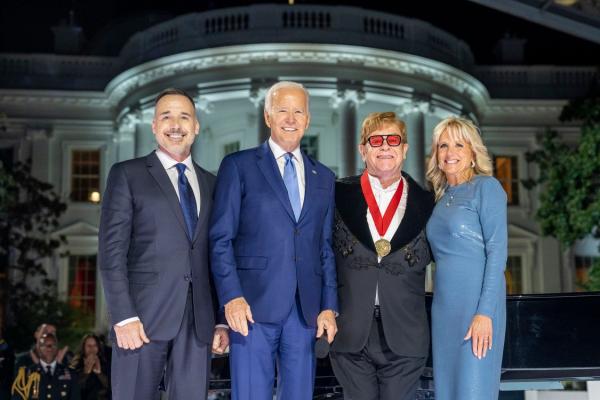 WHITE HOUSE CITATION
Sir Elton John, for moving our souls with his powerful voice in one of the defining songbooks of all time. An enduring icon and advocate with absolute courage, who found purpose to challenge convention, shatter stigma, and advance the simple truth that everyone deserves to be treated with dignity and respect.  
By 1975, youth in America were gripped by Elton John mania, writing fan letters of devotion, collecting memorabilia, watching him on the big screen as the Pinball Wizard in Tommy, and obsessively listening to his music. John was already one of the most popular entertainers in the world, and his ninth and latest album, Captain Fantastic and the Brown Dirt Cowboy, sold 1.4 million copies in the first four days of its release, becoming the fastest album to reach number one on the Billboard chart. Although John's over-the-top stage costumes of platform shoes, sequins, and feathers won attention, it is the universal appeal of his extraordinary music and his example of compassionate activism that have endured.
Reginald Dwight, born in 1947 in Middlesex, England, was an unlikely rock star. Primarily raised in a strict household by his mother and grandparents, he showed an early aptitude for the piano, playing Waldteufel's "The Skater's Waltz" by ear at age three. His talent was steered toward classical music, winning a scholarship to the Royal Academy of Music, which he attended for five years, immersed in the music of Bach, Handel, and Chopin. But his heart was somewhere else; he quit the academy just before his final exams and devoted his time to playing solo at London bars and with his band Bluesology. From band members Elton Dean and Long John Baldry he invented his new name, Elton John.
Through a newspaper advertisement search for talent, John was introduced to lyricist Bernie Taupin. It was 1967 and John was twenty and Taupin was seventeen. Their songwriting partnership, forged in separate rooms in John's mother's home (Taupin writing on John's bunkbed and John composing on the piano in the parlor), would last 50 years and produce more than 30 studio albums that won millions of fans and dozens of awards.
Together they composed iconic songs to last the ages, such as "Your Song," "Rocket Man," "Someone Saved My Life Tonight," and "Crocodile Rock," which a grinning, befeathered John would belt out while directing a choir of puppet crocodiles on the Muppet Show, an imprimatur of stardom at the time. "Tiny Dancer," which had limited success when it was released as a single in the United States in the early 1970s, became an anthem for a new generation when Cameron Crowe used it in his 2000 film Almost Famous. Invariably, movie audiences can't help but sing along with the onscreen characters because, well, we all know the ballad by heart: "The words she knows, the tune she hums."
Originally an homage to Marilyn Monroe, "Candle in the Wind" from 1973 was re-recorded in 1997 as "Goodbye England's Rose" as a tribute to the late Princess Diana, a dear friend of John's. The song sold 33 million copies, becoming the highest-selling single since the charts began in 1940, and John donated the proceeds to Diana's favorite charities.   
John's philanthropy does not stop there. In 1992, after losing many friends and loved ones to AIDS, he founded the Elton John AIDS Foundation, which has raised more than $660 million to support HIV-related programs in 55 countries. The proceeds from his 2012 book Love Is the Cure—On Life, Loss and the End of AIDS have supported his foundation. Kirkus described it as, "An impassioned plea for understanding and a good layman's guide to the current state of the AIDS crisis." He has gone on to establish the Elton John Charitable Trust, which supports more than 100 various charities, the Elton John Scholarship Fund that provides for talented students to attend the Royal Academy of Music, and the Elton John Sports Fund that supports promising young athletes. His proud marriage to David Furnish and the family they have built together have lent visibility and dignity to gay parents and their families around the world.
John's music reaches across genres, particularly in the realm of musical theater. His collaboration with librettist Tim Rice on Disney's The Lion King and Aida won him an Oscar, a Golden Globe, Grammys, and a Tony Award. He also won a Tony for Best Musical for Billy Elliott, which he composed. He has performed with a wide range of artists, from John Lennon to Eminem to Luciano Pavarotti.
Queen Elizabeth II knighted Elton John in 1998, and, in September 2022, John was awarded a National Humanities Medal from President Joseph R. Biden following a performance on the White House South Lawn. Biden honored John "for moving our souls with his powerful voice in one of the most defining songbooks of all time," and praised him as "an enduring icon and advocate with absolute courage, who found purpose to challenge convention, shatter stigma, and advance the simple truth that everyone deserves to be treated with dignity and respect."
—Amy Lifson