Colson Whitehead
National Humanities Medal
2021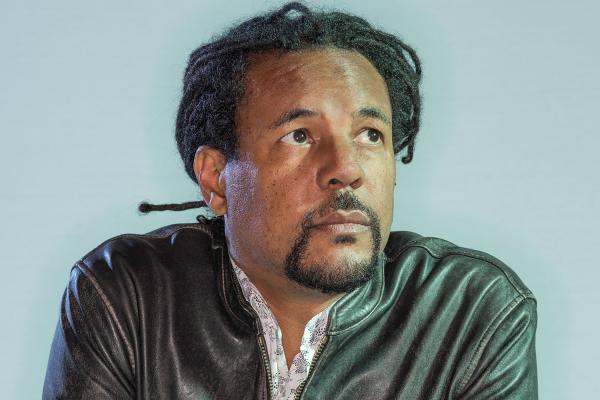 WHITE HOUSE CITATION
Colson Whitehead, for his truth-seeking as an American literary icon. With genre-defying craftsmanship and creativity, Colson Whitehead's celebrated novels make real the African American journey through our Nation's continued reckoning with the original sin of slavery and our ongoing march toward a more perfect Union.
"I was a shut-in kid and loved to read and watch sci-fi matinees on TV," says Colson Whitehead of his early inspirations as a writer. "The switch for me was coming across Borges and Gabriel García Márquez as a senior in high school. These were highbrow writers, people who wrote literature and were using the same fantastic effects I loved in horror and science-fiction, but using it toward a different end."
From those origins, Whitehead has stretched the boundaries of literary fiction. His work blends high and low, past and present, the wildly speculative and the bone-deep realities of race and class in America. Since his debut novel, 1999's The Intuitionist, he's populated his work with zombies and bank robbers, contemplated the social implications of postage stamps and adhesive bandages, explored his native New York and the deep South, satirized our cultural norms, and soberly critiqued the country's legacy of slavery and Jim Crow.
In the process, Whitehead has become one of the country's most acclaimed writers. He's won the Pulitzer Prize for fiction twice, first for his 2016 novel, The Underground Railroad, which follows a slave named Cora as she escapes a Georgia plantation via the railroad of the title (which Whitehead imagines as an actual railway). The novel received the National Book Award in fiction, and Whitehead received another Pulitzer for 2019's The Nickel Boys, drawn from a true story about a Jim Crow-era Florida reformatory that subjected young Black men to violent abuse.
With every book, Whitehead has sought to reinvent and question genre conventions. "It keeps it challenging and interesting," he says. "I like seeing what I like in those conventions and which ones I want to throw out. Why should zombies walk fast, or slow—which one's scarier? I can delete it, or subvert it, and just find a way that's interesting to me."
Whitehead was born in 1969 and raised in New York City, returning there after graduating from Harvard. (His 2003 nonfiction book, The Colossus of New York, is a tribute to the city.) Though he's addressed slavery and racism more overtly in recent years—his 2021 novel, Harlem Shuffle, turns on a 1964 race riot in the Upper Manhattan neighborhood—those subjects have been germinating for much of his career.
"There's something about the tragedy of slavery that made it seem sort of radioactive—I had the idea [for The Underground Railroad] in 2000, but I didn't feel like I was mature enough to write about it, or a good enough writer," he says. "Whereas my earlier books deal with race in a serious way, there was also room for humor. I definitely didn't feel like there was a place for joking in the way I was writing about it in The Underground Railroad."
Whitehead professes skepticism about the power of an individual work of fiction to move society. Counting off works he feels have done so, he requires only two fingers: Harriet Beecher Stowe's abolitionist classic, Uncle Tom's Cabin, and Upton Sinclair's slaughterhouse exposé, The Jungle. But, "obviously poetry, novels, music, film, and sculpture move the soul and transform us on an individual level," he says. "And when such a work transforms you, it ends up transforming the world, because you are the agent of that piece of art."
The evidence of that, he says, is in the diversity of experience the humanities now explore. "There's a new generation of people in their twenties and thirties who've grown up in a world where African American studies is a fact in the academy," he says. "They're being introduced to Toni Morrison, they're being introduced to a more truthful encounter with slavery and American history in a way that was not possible 60 years ago."
Maintaining that progress, though, demands diligence. "We come out of moments of censorship and attacks on progressive values, but it's hard," he says. "I feel all of our advances are very fragile, and they need to be protected."
For his part, he says, his best contribution is to simply continue making art. His next book, the forthcoming Crook Manifesto, is a sequel to Harlem Shuffle, moving the story into the '70s. Whether a story about race in the past can change the future is out of his hands. "My work is my engagement," he says. "And I'm pretty busy enough with that."
—Mark Athitakis