Bryan Stevenson
National Humanities Medal
2021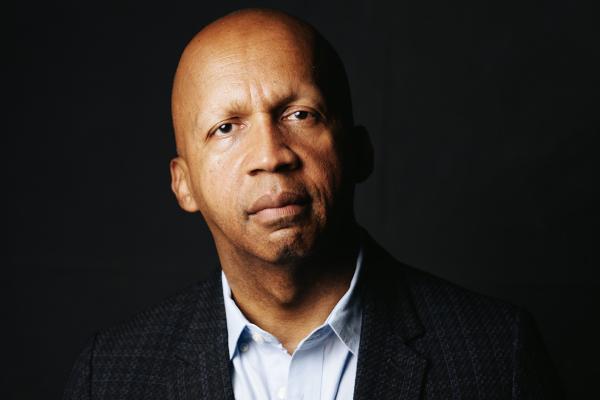 WHITE HOUSE CITATION
Bryan Stevenson, for his moral call to redeem the soul of our Nation. An advocate fighting tirelessly for the poor, incarcerated, and condemned, Bryan Stevenson follows the Book of Micah's instruction to act justly, love mercy, and walk humbly as he chronicles the legacy of lynching and racism in America, shining a light on what has been and all that we can be as a Nation. 
"Ultimately, our humanity depends on everyone's humanity." Those were Bryan Stevenson's words during the TED Talk that first catapulted him to national fame 11 years ago. Those words are also the bedrock belief that has guided his entire career as a champion of racial justice and human dignity. An attorney, author, and inspiring speaker, Stevenson is best known as the founder of the Equal Justice Initiative, a nonprofit organization in Montgomery, Alabama, that for more than 30 years has provided legal representation to prisoners on death row, children prosecuted as adults, criminal defendants with intellectual disabilities, and people who have been abused in prison or unfairly locked up.
Over the decades, Stevenson and his staff have saved from execution more than 130 wrongly convicted death-row prisoners—winning exonerations and freedom for some. Several times, Stevenson has argued cases before the U.S. Supreme Court, and in 2012 he secured a landmark ruling that outlawed mandatory sentences of life without parole for children 17 or younger. His best-selling memoir, Just Mercy, was made into a 2019 movie starring Michael B. Jordan and Jamie Foxx. "Each of us is more than the worst thing we've ever done," Stevenson writes in the book's opening pages (a line that has become a refrain). "The closer we get to mass incarceration and extreme levels of punishment, the more I believe it's necessary to recognize that we all need mercy, we all need justice, and perhaps—we all need some measure of unmerited grace."
More recently, Stevenson was the force behind a massive and ambitious project, unveiled in 2018: the Legacy Museum, which chronicles the history of American racial oppression, placing modern-day mass incarceration on a continuum with slavery and Jim Crow; and the National Memorial for Peace and Justice, which commemorates the thousands of victims of lynching in the United States. Both sites stand in Montgomery, within walking distance of each other. The memorial is a vast open-air structure made of wood and metal, situated on a six-acre sloping hill. Its pavilion is filled with 800 massive columns of weathered steel, suspended overhead, each representing a different county and engraved with the names of those who were lynched there. "I had gone to South Africa and seen the Apartheid Museum, and I'd seen the Holocaust Museum, and Holocaust memorials in Germany," Stevenson says, "and it made me realize that there weren't cultural spaces like that in the U.S. that were talking honestly about this history, of enslavement and bigotry and racial terror. And we wanted to do something like the Holocaust Museum, where you get to the end, and you're motivated to say, 'Never again.'"
For Stevenson, the idea for the museum and memorial had been a long time coming, less a departure from his legal career than another way of pressing his case about the long roots of American injustice and the essential humanity of people who are "disfavored, marginalized, and excluded." For a long time, the law had seemed the most effective way to push forward. Born in segregated southern Delaware in 1959—the great grandson of enslaved ancestors—he was part of the first generation of African Americans to experience the legalized integration of public schools after Brown v. Board of Education. There had been no high schools in the county for Black students when his father was a teenager. The courts, Stevenson saw, were what changed things. So, after studying philosophy at Eastern University in Philadelphia, he attended law school at Harvard. He spent the summer after his second year as an intern at a public-interest law firm in Atlanta, working with defendants in death-penalty cases. There, he found his calling. By 1989, he'd moved to Montgomery and launched what would become the Equal Justice Initiative. In 1995, when he won a MacArthur "genius" grant, he used the award money to keep the organization afloat.
In the last couple of decades, he began to recognize the limits of the law. The fight for equality isn't only legal but cultural; it's about the stories people tell and believe. In 2013, Stevenson's organization erected three markers about the Montgomery slave trade, "and I was blown away by the intensity of the community's response, and I began to understand the power of public history." In 2015, the Equal Justice Initiative released a report documenting roughly 4,000 lynchings between 1877 and 1950—hundreds more than had been previously known. Stevenson and his staff spent years researching the report (that research continues—the number of documented lynchings is now close to 4,500), and volunteers collected soil from the sites where people had been killed. Those jars of soil are lined up on display at the museum, a haunting, silent witness. "So, we're in the early days of taking on the narrative struggle," Stevenson says, "against this idea created during enslavement that Black people aren't as good as white people. We've never been able to make that the priority before, because we were dealing with these other existential threats"—enslavement, lynching, segregation, disenfranchisement—"but now we can begin to do this narrative work. And that's good. I think that's how we get to a point, you know, where the children of our children are not burdened by this history."
—Lydialyle Gibson