Anna Deavere Smith
National Humanities Medal
2012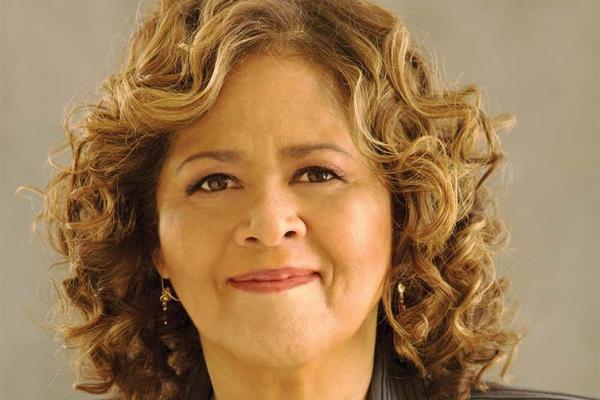 WHITE HOUSE CITATION
For her portrayal of authentic American voices. Through profound performances and plays that blend theater and journalism, she has informed our understanding of social issues and conveyed a range of disparate characters.
For actress and playwright Anna Deavere Smith, the connection between language and identity has been a boundless source of creative inspiration. Throughout her career, Smith has portrayed a vast variety of real-life Americans in a series of theatrical projects, including virtuosic one-woman shows in which she brings twenty or more characters to life onstage.
Her plays, on subjects ranging from health care to the role of grace, present characters through their own words, taken from Smith's recorded interviews—verbal extracts that she performs with utmost fidelity to every phrase or seemingly awkward turn.
Well known for her roles in films such as The American President (1995) and the television series The West Wing and, currently, Nurse Jackie, Smith is a University Professor in performance studies at New York University and the author of two books, Talk to Me: Listening Between the Lines (2000) and Letters to a Young Artist (2006). A past recipient of a five-year MacArthur Foundation "genius" award, she was honored earlier this year with the Gish Prize in the arts.
Smith sees her interview-based work, which she began in the late 1970s, as part of an open-ended, lifelong project she calls On the Road: A Search for American Character. She paraphrases Walt Whitman's image of a poet "having to absorb his country." She says, "I want to know as much as I can about this country." A small sampling of the people Smith has interviewed and later embodied in that pursuit might include a tough-as-nails bull rider, a female prison inmate, doctors, patients, ministers, and rabbis, a Korean American shopkeeper, President Bill Clinton, and, in a portrayal packed with joie de vivre, the late Chicago radio host and author Studs Terkel.
Performing the characters herself, as she does in many of her plays, intensifies the effect. When early funding was limited, she says, it was a practical solution: "For the time being, I'll just play all the parts." But for audiences, seeing one person become diverse characters and viewpoints had a profound effect. It encouraged "an examination of difference," she thinks, and more openness to "civic dialog and community."
Honed and seasoned through her past projects, Smith's work came to national attention in 1992 with her Pulitzer-nominated play, Fires in the Mirror: Crown Heights, Brooklyn and Other Identities, a widely acclaimed work in which Smith played more than two dozen people—Jewish and black, men and women, famous and unknown, with some connection to the racial violence in Crown Heights in 1991. In a strange coincidence, the play's first preview in New York was postponed when riots broke out in Los Angeles, transfixing the nation. The events in Los Angeles led quickly to a commissioned work, Twilight: Los Angeles, 1992. Among other honors, Twilight was nominated for best play and best actress Tony awards.
Born and raised in Baltimore, Smith graduated from Beaver College, now Arcadia University, near Philadelphia, then earned an MFA at the American Conservatory Theatre in San Francisco. There, she studied Shakespeare, which she credits with giving her new insight into the power of language. In his plays, she says, "from words and rhythm, character evolved." Smith, left with "overhanging questions about language and identity," began interviewing people with a tape recorder. As she learned to get beyond her subjects' first superficial replies to their more authentic voices, she found compelling words with dramatic force.
Finding, working through, and personifying that "organic poetry," as she has called it, is no small task. For Let Me Down Easy (2009), a play on health care, Smith interviewed 320 people, of whom about twenty appear onstage. All of "the 320 had an influence" on the play, she says, because she was "changing, learning, thinking in the presence of these people." And, as always, their words led the way. While the play remains deeply engaged with American medicine and its inequities, she describes it as a more "lyrical" work about "the vulnerability of the body, the resilience of the spirit."
On the Road has become more "civic" says Smith, moving from local subjects to topics of broader national concern. It started with "portraits of smaller environments. Theater was not that interested in the '80s, but universities were." Over time, she says, the university settings "prepared me to take on larger research projects, larger stories," including current topics regarding health care and education. That interest in the civic dimension of art as part of a public dialog on social change extends beyond her own plays. Smith is also the founder of Anna Deavere Smith Works (ADS Works), which convenes artists to challenge them to "walk in civic space," addressing current issues and pursuing artistic excellence at the same time.
— by Esther Ferington