Ann Patchett
National Humanities Medal
2021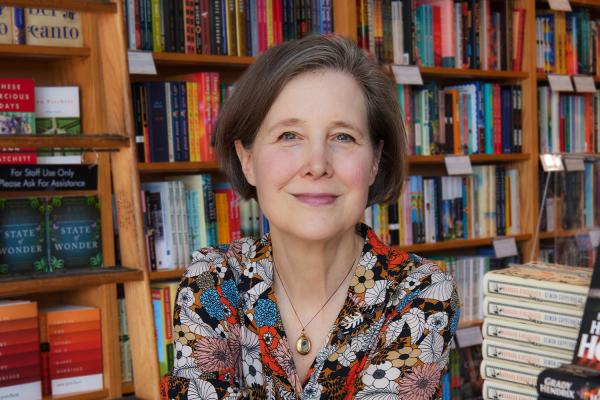 WHITE HOUSE CITATION
Ann Patchett, for putting into words the beauty, pain, and complexity of human nature. With her best-selling novels and essays, and her bookstore, readers from around the world see themselves in the pages of Ann Patchett's books that take people to places of the heart and feed the imagination of our Nation.
When the plots of Ann Patchett's eight novels are summarized, they may seem, at first, to have nothing in common. In The Patron Saint of Liars, a woman with a secret arrives at a home for unwed mothers. In State of Wonder, a scientist sets off into the Brazilian rain forest to locate the body of her deceased colleague. In Commonwealth, a messy, blended family mourns the tragic loss of a child. For Patchett, however, the connection between her stories is simple: "A group of strangers are thrown together by circumstance and form a society," Patchett said in a recent telephone conversation. "That's it." This deceptively simple premise has allowed her to delve into the complexities of her characters' inner lives and deliver what one reviewer described as "provocative insights that sum up entire relationships."
Her fiction has proven to be compelling to readers and critics alike. Patchett has received, among other honors, the Pen/Faulkner Award, United Kingdom's Orange Prize for Fiction, and the Harold D. Vursell Memorial Award from the American Academy of Arts and Letters, which recognizes prose for the "quality of its style."
In addition to her novels, Patchett has published two children's books and four works of nonfiction, including her most recent collection of essays, These Precious Days. Novels may take her far afield, she has observed, but her essays tend to come from her own life and are "made from the things that were at hand."
Born in 1963, in Los Angeles, and raised in Nashville, Patchett describes herself as being a child who possessed a knack for "stillness" and being alone with her own thoughts, valuable skills for a writer. She went on to study at Sarah Lawrence College, where literary success came early—she published her first story as an undergraduate in the Paris Review—and later received her MFA from the University of Iowa.
In 2001, not long after the publication of Patchett's breakout novel, Bel Canto, her literary hero, Eudora Welty, died at the age of ninety-two. Patchett got into a car and drove 400 miles to attend the funeral of the literary legend she had never met. She was anticipating a standing-room-only event, she later recounted, and was surprised to find a more modest crowd. The experience speaks to her belief in the "life-altering" power of fiction and the place writers should have in the culture. In the years that followed, Patchett has served as an advocate for literature, extolling the pleasures of the short story in her introductory essay to The Best American Short Stories 2006, serving as the honorary chair of World Book Night, and spreading the word about hidden-gem writers such as Edith Pearlman.
Patchett speaks in pragmatic terms about her own writing process, but she speaks passionately of her love for books. "I would stand in an airport," she wrote in These Precious Days, "to tell people about how much I love books, reading them, writing them, making sure other people felt comfortable reading and writing them."
This passion makes her well suited for running Parnassus Books, which she started in Nashville with her partner, Karen Hayes, in 2011. In the more than ten years since Parnassus opened, Patchett has championed, on venues that include NPR and The Colbert Report, the importance of independents, stressing the positive effects they can have in the communities they serve. During her interview, she enthusiastically cited statistics demonstrating that independent booksellers have made a comeback, sounding undaunted even as she described challenges that continue to absorb her and her fellow bookstore owners around the country: real estate, lease negotiations, and the paper supply-chain issues that can snarl up book orders.
Patchett also spoke with fondness about her other labor of love, the Parnassus Foundation, a small nonprofit she started several years ago that provides free books and sends authors to underserved schools in the Nashville area where children's writers might not otherwise visit. It's one more way for her to share her passion with others. "We give all the kids the books," she said, her voice brightening as she described it. "That is such joy. It is so exciting."
—Alyson Foster