Amy Tan
National Humanities Medal
2021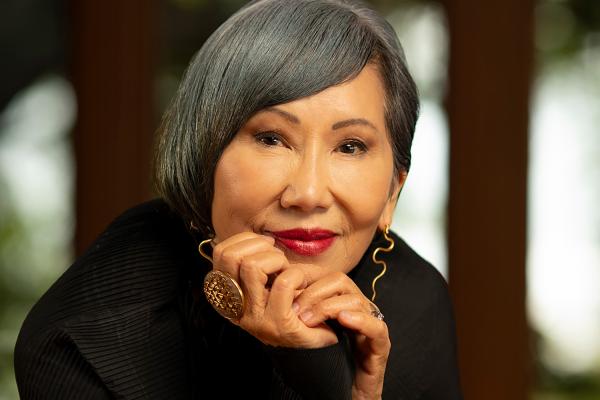 WHITE HOUSE CITATION
Amy Tan, for expanding the American literary canon. By bravely exploring experiences of immigrant families, heritage, memories, and poignant struggles, Amy Tan's writing makes sense of the present through the past and adds ground-breaking narrative to the diverse sweep of American life and literature.
Growing up in a quadrilingual (English, Mandarin, Cantonese, and Shanghainese) immigrant family in Oakland, California, writer Amy Tan developed an appreciation for languages and a fascination for words. "My father and I would read the thesaurus," says Tan. "He was very interested in what a word contains." But, as Tan explains, "Words, to me, hold so much but not enough. I had to create stories to make me feel understood."
Since Tan's first novel The Joy Luck Club captured readers' imaginations in 1989, she has devoted herself to telling stories—stories of relationships, immigrants, generations, memories, and places in time. Called "a jewel of a book" by the New York Times, The Joy Luck Club narrates the stories of four Chinese immigrant women and their American daughters, who are loosely based on Tan's parents and their friends who formed an investment club of the book's name, meeting monthly to play mahjong, feast, and share their lives. The novel went on to be a New York Times best-seller, a finalist for the National Book Award and the National Book Critics Circle Award, and, in 1993, was adapted into a movie with Tan as cowriter of the screenplay.     
Before Tan began writing fiction at thirty-three, she had been a business writer, working 90-hour weeks, with just a few hours in between assignments for sleep. "I could never say no to a project, to a client," she says, but she reached a breaking point and decided she wanted to write something meaningful for herself. That openness to opportunity has continued throughout her career, producing five more best-selling novels (The Kitchen God's Wife, The Hundred Secret Senses, The Bonesetter's Daughter, Saving Fish from Drowning, and The Valley of Amazement), two children's books (The Moon Lady, and Sagwa, The Chinese Siamese Cat), two memoirs, an opera libretto, and numerous short stories. Her interests are not limited to literary pursuits—she swims with sharks and performed with an all-writer garage band, alongside Stephen King and Dave Barry. She has ventured into television, as a creative consultant for the Emmy-winning children's television series Sagwa and played herself on Sesame Street and on an episode of The Simpsons. She is the subject of the American Masters documentary Amy Tan: Unintended Memoir, which premiered in 2021. Her next book, The Backyard Bird Chronicles, due out in 2024, is the publication of her bird illustrations and accompanying journal reflections. "Not to sound spooky, but I really believe there is some sort of collective force making good things come my way."
"I am a writer compelled by a subconscious neediness to know, which is different from a need to know," Tan writes in Where the Past Begins: A Writer's Memoir. "The latter can be satisfied with information. The former is a perpetual state of uncertainty and a tether to the past."
Tan has mined the past—her own, her mother's, her grandmother's—to inspire her fiction. Uncertainty and trauma were familiar forces in Tan's childhood. Her parents were in the country illegally, her engineer and minister father and brilliant older brother both died of brain cancer when she was a teenager, and her mother threatened suicide many times. Her mother's own journey—being the orphaned daughter of a concubine who committed suicide, escaping an abusive marriage in China and leaving three daughters behind, and arriving in the United States without knowing English—is itself the stuff of novels. In the Joy Luck Club, a daughter is told by her mother's friends to go to China, meet her lost sisters, and tell them about their deceased mother:
"What can I tell them about my mother? I don't know anything. She was my mother."

The aunties are looking at me as if I had become crazy right before their eyes.

"Not know your own mother?" cries Auntie An-mei in disbelief. "How can you say? Your mother is in your bones!"
In her own life, Tan made a conscious effort to truly know her mother. Tan says, "When my mother lamented about her life, I had to listen to keep her from killing herself, but my listening changed. I realized she wanted a witness to her life." Tan listened and recorded her mother's story and traveled with her to China to meet her own lost sisters.
Tan believes her success is partly because she offers stories that resonate with contemporary readers' experiences—stories that incorporate generational tension, world conflicts, trauma, and forgiveness. "Writers naturally embed the details of what is going on out in the world," she says. "Literature and writing are so important to understand a society—they are a reflection of what is going on in the world through individual stories."
—Amy Lifson