Wynton Marsalis
National Humanities Medal
2015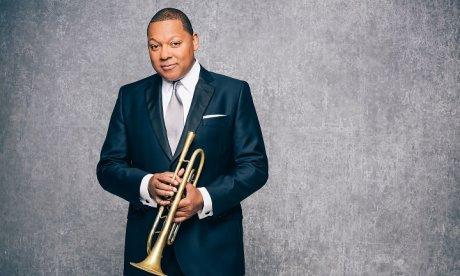 WHITE HOUSE CITATION
For celebrating the traditions of jazz music from New Orleans to Lincoln Center and beyond. As a virtuoso trumpet player, composer, and educator, he has brought jazz to a wider audience and inspired music lovers to embrace America's quintessential sound.
"Jazz music is America's past and its potential, summed up and sanctified and accessible to anybody who learns to listen to, feel, and understand it," the award-winning trumpeter, bandleader, composer, and educator Wynton Marsalis wrote in his 2008 book Moving to Higher Ground: How Jazz Can Change Your Life. And for the three decades or so he's been on the scene, those words have been made manifest by his tireless dedication to spreading the gospel of jazz.
Marsalis grew up in and around New Orleans, a son of Ellis Marsalis, a legendary pianist and educator. Three of his five brothers are also musicians: saxophonist Branford, trombonist/producer Delfeayo, and drummer Jason. Around the age of six, Marsalis took up the trumpet, eventually playing in funk groups, marching bands, and local orchestras. At twelve, he got hooked on jazz after listening to John Coltrane. A stellar graduate of the New Orleans Center for Creative Arts, he won a scholarship to Juilliard, played with Art Blakey's Jazz Messengers, and signed an unprecedented deal with Columbia Records. He became, in 1983, the first musician to win Grammys in both jazz and classical music in the same year. He has recorded scores of jazz and classical albums, and was awarded the Pulitzer Prize for his sprawling, 1997 slave-themed, jazz oratorio Blood on the Fields. His latest CD, The Abyssinian Mass, brims with the hues and grooves of the black church.
His trumpet playing combines Clifford Brown's sterling tone, Louis Armstrong's Crescent City colors and power, and Miles Davis's spatial, Harmon-muted melodicism. The intense marketing of his clean-cut image ignited the so-called "Young Lions" period of the '80s, as he broke with fashion to play straight-ahead acoustic jazz, instead of fusion.
Marsalis's biggest impact may be in jazz education. He's the managing and artistic director of Jazz at Lincoln Center, the world's largest not-for-profit organization devoted to jazz, which he cofounded in 1987 with esteemed novelist and literary/cultural critic Albert Murray and Murray's then-protégé, writer and essayist Stanley Crouch. The center's mission is "to entertain, enrich and expand a global community for jazz through performance, education and advocacy," with concerts, international tours, and programs for young people, including their critically acclaimed "Essentially Ellington" competition/festival, band director academy, a jazz appreciation curriculum, and a number of jazz publications and scores.
An inspiration to others, Marsalis is himself inspired by the act of performing and the tradition he draws on. "The music can teach you how to be a better citizen in the world; to be better to yourself, and how to expand your worldview, in a world that is expanding all the time," he told Ebony.com. "Through improvisation, jazz teaches you about yourself."