William Theodore de Bary
National Humanities Medal
2013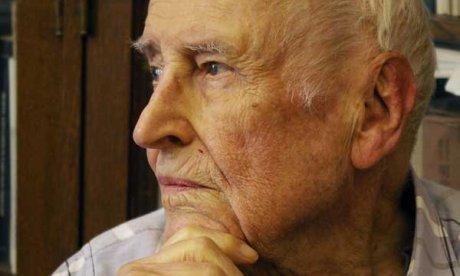 A pioneering scholar of Asian thought, William Theodore de Bary has spent over half a century broadening the scope of humanistic inquiry. By introducing the Asian humanities to the United States through his thirty-one books and his curricular innovations, de Bary has encouraged generations of students to engage in what he calls the "great civilized conversation" with classics of the West and the East. This conversation has inspired Western students to draw upon such thinkers as Confucius and Rumi as well as Plato and Homer when grappling with timeless questions such as What is nobility?, What is civility?, and What is leadership?
For de Bary, a true citizen of the world carries on this conversation throughout one's life. "When you read a classic, you engage in some sort of dialog with the author or the text, and you read it as if it has some relevance to your own current life," he explains. "It is a dialog with the great minds of the past that have already been in dialog with each other. It is a continuing conversation over the ages." Ninety-four years old, de Bary is still teaching undergraduates at his beloved alma mater, Columbia University.
In 1937, shortly after arriving on campus from Leonia, New Jersey, de Bary took Contemporary Civilization with Harry Carman. In the very first session, Carman drew his students' attention to the absence of non-Western civilizations in the syllabus. "What we need are young people who will prepare themselves to include Asia in this program," Carman said, referring to the Core Curriculum, Columbia's famed general education program. Struck by his professor's challenge, de Bary undertook the study of Chinese language and history—a pursuit, he recalls, that most of his classmates found "distinctly odd."
After college, he began graduate work at Harvard but returned to Columbia to earn his MA in Japanese studies in 1948 and his PhD in Chinese in 1953. Delving into pre-modern East Asian religious and philosophical texts for his doctoral research, de Bary went on to establish the field of Neo-Confucian Studies with such books as Self and Society in Ming Thought (1970) and The Unfolding of Neo-Confucianism (1975). "Neo-Confucianism was the Confucian response in medieval times to the challenges of Buddhism and Daoism," he explains. "It was, one might say, a 'core curriculum' of new medieval texts that addressed those challenges. In the eleventh and twelfth centuries, the Confucians were resuming and renewing the great civilized conversation." 
During World War II, de Bary served as a naval intelligence officer in the Pacific, gaining firsthand experience in Japan, China, and Korea. Following the war, his Fulbright research in Beijing in 1948 was cut short when Mao's revolutionary army besieged the city. During these pivotal moments and in subsequent decades of travel, de Bary has sought to understand the ideals and traditions of Asia, free from Western preconceptions as much as possible. 
Returning to Columbia as a teacher in 1949, de Bary took up Harry Carman's challenge. Selecting the most resonant texts for new Asian civilization and humanities courses, he expanded the conversation in the Core Curriculum to include perspectives from Confucian, Buddhist, Japanese, and Hindu traditions.
Expanding the conversation not only at Columbia but at schools around the world, de Bary established a book series at Columbia University Press in 1958 that has made centuries of Asian source texts accessible to English-language readers. Titled Introduction to Asian Civilizations, the series includes Sources of Chinese Tradition, Sources of Japanese Tradition, and Sources of Indian Tradition. With these books in wide circulation, countless students and scholars have been able to engage directly with Asian thought and literature.
The usually bow-tied de Bary is a legendary figure at Columbia, where he is now John Mitchell Mason Professor Emeritus and provost emeritus. On campus, he is known not only for his monumental scholarship and educational leadership but for his unflagging dedication to students, which has earned him a clutch of the university's highest teaching honors. Today, he teaches his courses pro bono. Outside the classroom, de Bary remains committed to Columbia football, having attended almost all of the home games in the past fifty years. 
As his most recent book, The Great Civilized Conversation: Education for a World Community (2013), makes clear, de Bary remains equally committed to advancing the conversation with the classics at a time when many colleges no longer require or offer a general humanities curriculum. "I don't think you can let the market dictate your educational approach," he says. "You have to be prepared to defy the market. I don't think any other approach than studying the classics and the perennial questions will give you a sense of direction. You have to have your value judgments informed by the experience of the best minds of the past. You have to have engaged them in conversation."
                                                                                        —Ross Yelsey