Terry Gross
National Humanities Medal
2015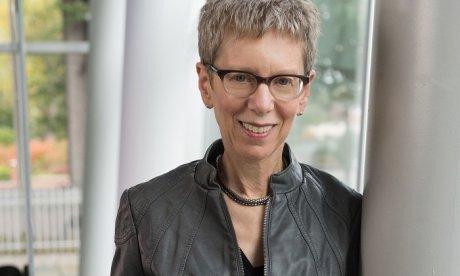 WHITE HOUSE CITATION
For her artful probing of the human experience.  Her patient, persistent questioning in thousands of interviews over four decades has pushed public figures to reveal personal motivations behind extraordinary lives—revealing simple truths that affirm our common humanity. 
Terry Gross has brought stories and insights from the world's top authors, artists, and thinkers to the listening public through her daily radio show, Fresh Air, for more than four decades. The show has won a Peabody, and Gross is the recipient of many awards, including an Edward R. Murrow Award and an award from the Authors Guild. Gross is host and co-producer of Fresh Air, which is broadcast on 624 NPR stations across the country and on World Radio Network. It reaches five million listeners each week. In 2015 it was the number one downloaded podcast on iTunes. Her interviews constitute a priceless archive of cultural achievement for the last half century.
What draws such an audience is Gross's skill for eliciting thoughtful, surprisingly intimate conversations. Questions can be difficult, but they are not designed for attack or to result in cute soundbites. "People who have something to say and say it well—that's what makes a good interview. It's as simple as that," says Gross."But I am not a person who believes that everybody should be on the radio telling their story . . . not everybody has a gift for describing what happened to them, or synthesizing their area of expertise." One secret to her interviews, she says, is that she does them remotely. She is based in Philadelphia and the guest is at an NPR studio elsewhere. In the introduction to her 2004 book, All I Did Was Ask, Gross writes, "If you are a bit of a coward, as I am, it's easier to ask a challenging question when you're not looking someone in the eye."
Born in 1951 in Brooklyn, Gross got her professional start in 1973, working on a feminist radio show at WBFO-FM on the campus of SUNY–Buffalo. After a short, disastrous stint as an 8th grade English teacher, one of her roommates encouraged her to approach the producer of the show and offer herself as a volunteer. Gross got hooked. "I fell in love with radio; it was just magic to me. You actually get to read books and talk to the authors, there is just a touch of theater, a little bit of writing." Gross went on to host a show there called This Is Radio before being asked to host Fresh Air in 1975. 
Since then, Gross has done upward of 13,000 interviews, many with newsmakers, but a large portion of her guests are writers and artists.
"I think that novelists and comics and screen writers and actors are especially good at seeing into human behavior and the human heart. Charles Laughton once said, 'People don't know what they're like, but I think I can show them.' That's what artists do."