Prison University Project
National Humanities Medal
2015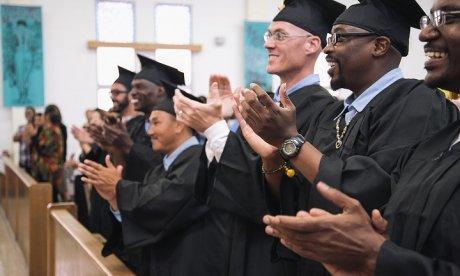 WHITE HOUSE CITATION
For transforming the lives of incarcerated people through higher education. Its programs offer opportunity and inspiration to their students, providing an example for others to emulate.
At one of America's most notorious prisons, a corps of volunteer instructors is teaching inmates about the relationship between knowledge and freedom. The Prison University Project at San Quentin State Prison is the only on-site, degree-granting higher education program within California's prison system.
Inside a trailer, the San Quentin students take classes taught by professors and graduate students from Bay Area colleges and earn college credits, tuition free. The San Quentin college program started in 1996 with two volunteer instructors, donated textbooks, and no budget, says Jody Lewen, executive director. She later founded a nonprofit to support the program, which is funded entirely through private donations.
Inside the prison, there is a waiting list for the program. Each semester about 350 San Quentin inmates take college and college prep classes in humanities, math, and social and physical sciences. To date, approximately 2,000 San Quentin prisoners have participated, with 150 receiving associate's degrees from Oakland-based Patten University. Lewen compares the program to a small liberal arts college. Staffed by faculty from Stanford, University of California at Berkeley, San Francisco State, and other schools, it just happens to be inside a medium-security prison. Inside that stultifying environment, Lewen says, the program supplies the "oxygen" inmates need to imagine a different future. "Their sense of the world at large evolves," she says. "They realize what they're capable of."
Among the program graduates is Pat Mims, who served 20 years for second-degree murder. Mims entered prison with a ninth grade education, and bounced around California prisons for a decade before transferring to San Quentin. Mims said his classes taught him to think critically and express his ideas. As a result, he says, "I started seeing a different way to live." He recalls waking up at 3 a.m. to study in his cell before heading to his prison job as a clerk. "During the day I was thinking about the paper I was writing," he says. "It helped me get away from prison while I was there." After being released in 2009, Mims enrolled at San Francisco State University and began working for a social services organization, where he developed police protocols for assisting victims of human trafficking. More recently he's been helping newly released prisoners obtain reentry services.
Currently Prison University Project serves only a fraction of San Quentin's more than 4,000 inmate population. Lewen has hopes that it can be expanded, and also replicated elsewhere.The higher education program, Lewen said, is a model "what you have to do if you want to include everyone and meet them where they are."