Louis Menand
National Humanities Medal
2015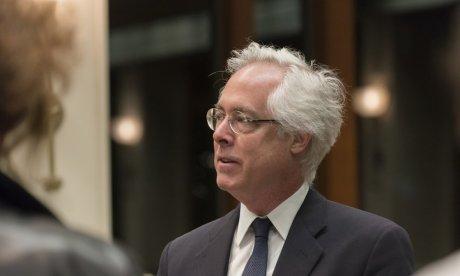 WHITE HOUSE CITATION
For prose and essays that invite us to think in new ways about the forces shaping our society.  His influential works of intellectual and cultural history probe the power of ideas from one era to the next as they ripple across politics and culture. 
At Harvard College, the course Humanities 10: "Humanities Colloquia: From Homer to García Márquez and From Joyce to Homer," moves through 2,500 years of art and literature at a brisk clip. Remarkably, tenured faculty members, not graduate students, teach the six sections of 15 students each. One of these is the New Yorker writer and the Pulitzer Prize-winning author of The Metaphysical Club, Louis Menand.
"The texts are fun to teach," Menand says, "and the freshmen are excited by them." The syllabus began with a list of 12 books Menand and the course's cofounder, English professor Stephen Greenblatt, felt every educated person should know. In addition to reading Homer, James Joyce, and Gabriel García Márquez, students in this year's course are reading works by Aristotle, William Shakespeare, and Jane Austen.
"The humanities are the record of human experience," says Menand. "It's the history of our species trying to figure out what it means to be human."
Menand (generally called Luke, a nickname since childhood) has been a staff writer at the New Yorkersince 2001. In recent years he has focused on book reviews, and has explored a spectacular range of subjects. "He's an absolutely brilliant intellectual storyteller," says Greenblatt. "That's what makes his writing in the New Yorker and his books so outstanding. Luke can take very complex material and craft a compelling, vivid narrative."
"He's one of the slyest and funniest writers we've got at The New Yorker—he has an inimitably and deceptively simple style," editor David Remnick told the Harvard Crimson. "Whoever makes these choices about the medals had a burst of insight and taste."
In The Metaphysical Club (2001), Menand deftly blends biographical material and historical events, setting both in a social and cultural context. What emerges is an enthralling story of the history of ideas. It centers on a conversational club that Oliver Wendell Holmes Jr., William James, and Charles Sanders Peirce formed in 1872 in Cambridge, Massachusetts. The Metaphysical Club received the Pulitzer Prize in History in 2002.
Menand is much more a cultural historian than a literary critic. In 1973, he graduated from Pomona College with a creative writing major. "I was writing pretty bad poetry," he says. Columbia awarded him his doctorate in English and comparative literature in 1980.
Menand's next book probes the Cold War era from 1945 to 1968—including Abstract Expressionism, the Beats, and the spread of American popular culture after 1950. Although some feel that the Cold War era is passé, Menand, ever the cultural historian, is having none of it: "They created the world we live in."