José Andrés
National Humanities Medal
2015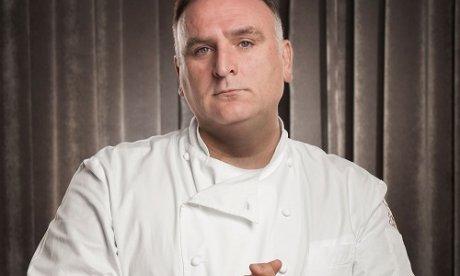 WHITE HOUSE CITATION
For cultivating our palettes and shaping our culture.  He has introduced new and vibrant ingredients to our Nation, whether through his innovative techniques in the kitchen, his work on clean cooking technology and access to education, or the inspiration he provides to new Americans.
José Andrés knew he wanted to be a cook since the time, as a boy, he helped his father prepare paella in the woods of northern Spain and yearned to be in charge of the fire. "I fell in love with making the fire," he says. The quality of the fire, he learned, determines the quality of the quintessential Spanish dish. He would take that love of fire and, over the course of the next several decades, transform it into a collection of 22 restaurants —some of them among the most innovative in the United States— and an international reputation as a major culinary influencer.
Andrés left school at 15, went to a culinary and hospitality school, then had the good fortune to work in a restaurant frequented by Ferran Adrià, the father of Modernist cuisine, which led to a job in Adrià's legendary restaurant elBulli. When the Spanish navy conscripted Andrés into service as a cook, he was thrilled—he'd get to see the world!—until he learned (perhaps because of his talent) that he'd been assigned to the admiral's house, and would be going nowhere.
He petitioned the navy and was given a spot on a boat, cooking for midshipmen. One of the first ports of call was Pensacola, Florida, where he saw five flags flying, one of them the Spanish flag. He felt both welcomed and intoxicated. After sailing into New York Harbor, below its grand suspension bridges, past the Statue of Liberty, he knew this was the place he wanted to be.
Four years later, with $50 in his pocket, he returned to the United States. He landed a job as cook in Manhattan at an outpost of a popular Barcelona restaurant, Eldorado Petit. In 1993, he helped to open Jaleo in Washington, D.C. Along with paella, the restaurant served tapas, small plates of fresh, simple dishes.
Two years later, Andrés was asked to take over Café Atlántico, also in D.C. The restaurateur Richard Melman's words to him stuck in his head: "You need to throw your anchor and build your future." The nation's capital would be that place. He was 25 years old.
In 2002, he opened Zaytinya, featuring eastern Mediterranean cuisine on small plates. And the year after that, minibar, a restaurant within a restaurant where his Adrià-inspired creativity could thrive.
Best chef awards and more restaurants followed, including the James Beard Award for best chef in the country in 2011.
Not only did he create a small restaurant empire, Andrés's manic energy, curiosity, intelligence and love of his native Spain has made him one of the great ambassadors of Spanish food and a chef who also works to improve impoverished parts of the world. "We [chefs] feed the few," he said, "but we have the opportunity to change the world."