Johnpaul Jones
National Humanities Medal
2013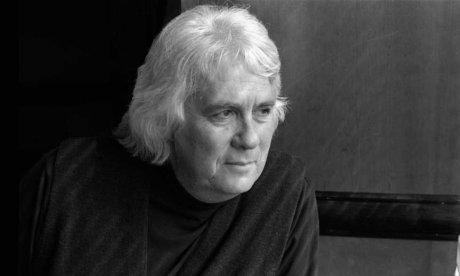 Before Seattle architect Johnpaul Jones was summoned to remake it, the tribal museum on the Southern Ute Indian Reservation was a humble affair.
"It was actually like a gift shop," recalls Southern Ute tribal member Robert Burch, "with Ute-made beadwork that was for sale in a small building. And then we were able to put some exhibits in there. But it wasn't really a museum."
When the Ignacio, Colorado-based tribe sought a space to better present their history and identity to visitors, Jones was a natural choice. He'd spent decades working with American Indian tribes and incorporating Native architectural motifs and philosophies into his designs. 
Most notably, Jones was the lead design consultant for the National Museum of the American Indian, which opened in 2004 on the National Mall in Washington, D.C. Threading together the heritages of the United States' diverse tribes, the museum is the Mall's most naturalistic structure—curved, contoured, marking the seasons, and overlooking not a static reflecting pool but a reclaimed wetland.
"One thing you notice on the Mall is all the trees are lined up straight," says Jones in his Seattle office. The buildings, too, are linear. They're symmetrical and classical in style. "Where Native people come from, everything's not in straight lines." He laughs. "So how do you do something that respects . . . our national heritage, but at the same time conveys something that's more organic, more natural, and is the message of Native people?"
Jones, who is seventy-three, refers to his aesthetic as "the four worlds": natural, animal, spiritual, and human. Each new design undertaken at Jones & Jones, the firm he joined in 1972 with founders Grant Jones and Ilze Jones, must consider all four aspects, creating structures that complement rather than contrast with the land, its ecology, and its community.
"In a true sense, I don't do buildings like the modernists do nowadays," Jones muses. "I love their work and I think it's beautiful, but I just don't do it that way. I respond with my designs in a different way, centered around those four worlds."
Jones, son of a Welsh-American father and a mother of Choctaw and Cherokee heritage, was schooled by his mother's family in their tribes' thought and lifeways while growing up in rural Oklahoma. But, as a youth in the 1950s, the dominant pressure on Johnpaul—who shares his father's first name—was to pass in the non-Native world. "I found that if you blended in better, you could learn more," he says.
The family moved to California, where Johnpaul interned with a San Jose architectural firm. His employers helped him continue his studies at the University of Oregon, and he settled professionally in Seattle, making his home on nearby Bainbridge Island.
Jones's interests soon turned to American Indian buildings—a subject not covered in his formal education. Some of his designs for Native groups involved just such buildings, like the Longhouse Education and Cultural Center at Washington's Evergreen State University, built in 1995. Similar longhouse projects followed, and tribes including the Makah, Wampanoag, and Nez Perce soon called for his aid in designing cultural centers, visitor sites, and museums.
At home in Seattle, Jones's relaxed 2003 blueprint for an all-tribes People's Lodge in Discovery Park helped mollify nearby landowners, who'd opposed a larger proposal. For the six-site Confluence Project, led by Maya Lin to memorialize the Columbia River leg of the Lewis and Clark expedition, Jones contributed the Land Bridge and Interpretive Trail at Vancouver, Washington, retracing part of the ancient Klickitat Trail Indian path with a curving, commemorative walkway above State Route 14.
The curves reappear in Ignacio, where the 52,000-square-foot Southern Ute museum opened in 2011. Centered on a latticed atrium and circular skylight, the wings of the building arc forward to embrace the east—"like you were looking down at a dancer that had eagle feathers on and had their arms out," as Jones puts it.
Jones's approach in tribal projects is to let his design respond to the input of the people. "Johnpaul listened to everybody—the elders, the young," says Robert Burch, who chaired the project. "And I think from that, he formulated what the Ute people wanted to see in a museum."
Uniting indigenous American architecture and imported Western traditions hasn't always been easy. Tasked with placing a dome on the national Indian museum—honoring peoples for whom the Roman dome has no meaning—Jones came to a design meeting and placed four woven Indian baskets on the conference table.
"I said, 'Now turn them over'—and there was a dome. I said, 'Let's try to make it have a relationship to a coiled basket.' It's not a dome . . . but it is a dome."
                                                                                                                                        —Jefferson Robbins