James McBride
National Humanities Medal
2015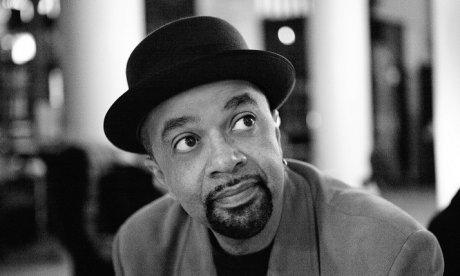 WHITE HOUSE CITATION
For humanizing the complexities of discussing race in America. Through writings about his own uniquely American story, and his works of fiction informed by our shared history, his moving stories of love display the character of the American family.
James McBride's writing career began in his first year at Oberlin College in Ohio, when his spotty academic record had placed him in a course for students who were not quite ready for undergraduate work. For a writing assignment, he typed up a story about a man who goes to the bathroom, has a heart attack, and dies. "It was a horrible story," McBride says, laughing, and then guffawing, at the memory. But there was something to the writing.
"You have a touch for this," Tom Taylor, his teacher, said.
He went on to receive a liberal arts education and studied jazz with Wendell Logan, Oberlin's only jazz expert in those days. 
Today, McBride is known as the author of several distinguished books, foremost among them, The Color of Water, "an instant classic," in the words of a New York Times reviewer. The book is about McBride's upbringing in a family of several African-American children born to a white, Jewish mother. It sold more than 2.5 million copies and has been translated into 16 languages. McBride also wrote The Good Lord Bird, a picaresque rendering of John Brown's raid on Harpers Ferry, as witnessed by a black man who was living incognito as a woman. It won the National Book Award for fiction in 2013.
In 2016, McBride published Kill 'Em and Leave, a book about James Brown that took him into a fever swamp of unreliable sources and the dustup surrounding the singer's contested financial legacy. McBride's own story has several storylines.After attending Columbia Journalism School, he began reporting for the News Journal in Wilmington, Del., where he won an award for his writing. After a couple years, he quit the news business to explore his roots and play music in Africa. Returning to the United States, he came back to journalism, before quitting again, to work as a musician full-time. He played with Little Jimmy Scott, and wrote music for Grover Washington Jr., Anita Baker, and Barney the purple dinosaur, but not, he says, the well-known "I Love You," song, though he wishes he had. He also began working on The Color of Water: A Black Man's Tribute to His White Mother.
A memoir, its chapters alternate between McBride's memories of growing up poor in a family of 12 children in Brooklyn and Queens and an oral history he took from his mother, Ruth, whose family came to the United States in the 1920s to escape persecution in Poland.
As a boy, McBride was always curious about his mother's much paler skin color, the object of many odd looks and some offensive remarks the family endured as they went about in public. Ruth put off his questions, insisting that the only things he needed to worry about were school and church.
One day the boy asked a different question: What color is God? His mother's answer became the title of his book.