Darlene Clark Hine
National Humanities Medal
2013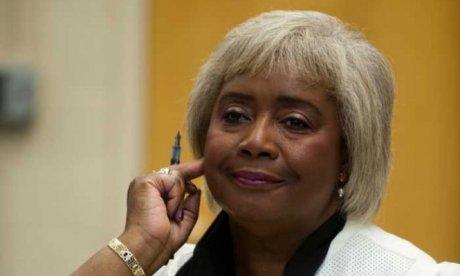 "When I decided to become a historian," recalls Darlene Clark Hine, "the last group I intended to study was black women." That these words come from arguably the most influential scholar of African-American women's history reflects the intertwined evolution of a career and field of study shaped by a struggle for recognition and legitimacy.  
As an undergraduate at Roosevelt University in Chicago during the height of the civil rights and Black Power movements, Hine abandoned her biology major to focus on history, eager to make sense of the remarkable events reshaping the country as well as her own identity as a black person. But even as Hine immersed herself in books about the black experience, which led eventually to a doctorate from Kent State University, African American women remained virtually absent from her historical consciousness. Conversations about the history of black women simply did not take place, Hine remembers, as they were seen as "neither objects nor subjects of history." One of only a small handful of black women in the historical profession in the late 1970s and, after she published her first book on the all-white Texas primary while at Purdue University, the only tenured black woman in the entire state of Indiana, Hine confronted both geographic and intellectual isolation in her early career. 
Her life and calling as a historian would change in 1980 when Shirley Herd, an Indianapolis schoolteacher and president of the city's chapter of the National Council of Negro Women, insisted she write a history of black women in Indiana. "I began to fully appreciate the rich legacy of community-building work of black women," Hine says, after a six-month immersion in local and private collections. It set her on a course to fundamentally transform how American history is viewed by centering the place of black people, and black women in particular, in the nation's past. 
Indeed, the existence of black women's history as a defined field of study is due in no small part to the scholarship and commitment of Darlene Clark Hine. Her pioneering work on the history of black women has been fueled by a desire to, in her words, "get new knowledge out to as many layers of the American population as possible." Whether in the form of resource guides like the Black Women in the Middle West Project, monographs on black women in the nursing profession, discipline-defining articles and essays such as "Rape and Inner Lives of Southern Black Women: Thoughts on the Culture of Dissemblance," or the first encyclopedia on black women in America, Hine has succeeded in, as she proudly states, "changing the conversation" about what constitutes history and who is deemed worthy of historical recognition. 
In the face of institutional barriers and detractors who dismissed the study of black women as insignificant or a passing fad, Hine has demonstrated that proudly calling oneself a black women's historian is not an impediment to professional success. In addition to teaching at Purdue University, Hine has held positions at Michigan State and Northwestern University, where she is currently the Board of Trustees Professor of African American Studies and professor of history. In each position, she has worked to prepare the next generation of historians to continue to push the study of African Americans and other peoples of African descent in new and exciting directions. 
Hine certainly does not take her influence for granted. "As much as we produce new scholarship," she asserts, "unless there are transformations in the academy that award and recognize the contributions that black faculty make, we will continue to have unhappy people." Hine, who sees the legacy of black women as "one that accords equal weight to service and sacrifice," has embraced the responsibility to transform the academy from within, making it hospitable to the presence of black historians. She has served as president of the Southern Historical Association and the Organization of American Historians (OAH), a distinction only a select group of individuals, regardless of race or gender, can stake claim to. That the OAH would establish the Darlene Clark Hine Award for the best book in African-American women's and gender history attests to both her personal success and the unquestioned status of black women's history. 
While Hine would be well within her right to rest on her laurels, she is still very much in the history business. She has two long-standing projects forthcoming, on the rise of the black professional class and black women health care workers in South Carolina, that she hopes will "help us better understand how black people survived seventy-five years of Jim Crow." Hine is certainly appreciative of all that she has accomplished, but never forgets that the "true heroes and heroines are the people in the past." Spoken like a true historian. 
                                                                                                                                      —Chad L. Williams