Abraham Verghese
National Humanities Medal
2015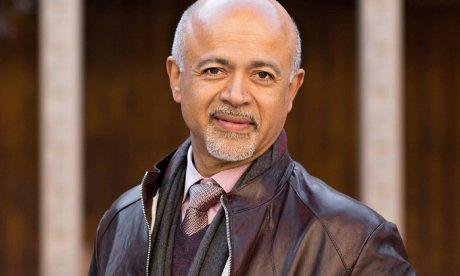 WHITE HOUSE CITATION
For reminding us that the patient is the center of the medical enterprise.  His range of proficiency embodies the diversity of the humanities; from his efforts to emphasize empathy in medicine, to his imaginative renderings of the human drama. 
Abraham Verghese, the well-known writer and physician, wonders why we make such a singular distinction for physician writers.

Many writers, of course, are also lawyers, teachers, office workers, and so on. Yet a strong connection runs through Verghese's work as a doctor, in which he promotes the basic old-fashioned practice of paying close attention to the patient's body and words, and his role as a storyteller.

Medicine, he says, is his "first great love," and his writing has come directly out of that.
Verghese was born in Addis Ababa to expatriate Indian parents. He began medical school in Ethiopia, but his studies were interrupted by the civil war in 1974. His parents had relocated to New Jersey, and he joined them there and worked as a hospital orderly, an experience that inspired him to go on to finish medical school, which he did in India. He later returned to the U.S. He completed a fellowship in infectious diseases at Boston City Hospital and for his medical residency, went to a hospital in Johnson City, Tennessee.
It was the mid-1980s and the AIDS epidemic had taken hold of America's cities. Gay men and women who needed treatment were returning home and the disease began reaching rural outposts. When HIV and AIDS surfaced in the Tennessee town, Verghese became the local expert. There was little he could do to combat the disease, but with his focus on the body, and the patient experience, he brought supreme empathy and respect to his patients—nearly all of whom faced certain and premature death. The difficult experience inspired him to write.
He took a break from medicine to attend the Iowa Writers' Workshop. He graduated in 1991 and returned to doctoring, taking a position as professor and chief of the Division of Infectious Diseases at Texas Tech Health Sciences Center in El Paso, Texas.Verghese wrote of his experience fighting the AIDS epidemic in his first book, My Own Country, published in 1994 to critical acclaim.
Verghese is now a professor of medicine at Stanford, where he works to persuade doctors of the importance of placing themselves in their patients' shoes: "Imagine your patient's experience" is his motto. In addition to My Own Country, he has written another memoir, The Tennis Partner, and a best-selling novel, Cutting for Stone. As a TED speaker, he has argued for the importance of the physical exam in this age of advanced tests and scans. At Stanford, he teaches students at patients' bedsides instead of around a table.
And he continues to write, believing that physicians serve as a vital witness to the patient experience. "The burden on the physician writer is to go beyond just describing—and to find meaning" in the "extraordinary, intimate moments in the lives of others."